We decided to start our weekend early, and went out to dinner, and then to the new Star Trek (link is to Ted's review on his blog) movie on Thursday evening.  I like it when we do something like that during the week…though it can make for a tired Friday, it makes the weekend feel a bit longer.  I enjoyed the movie, and I'm glad we went to see it, but I didn't LOVE it.  I think they did a really good job, but there was a sense of retreading an old story, rather than going in a new direction.
Saturday I decided to get my butt in gear and go to for a swim.  The pool where I go to swim opens at 11 on weekends, and I generally get there at opening time, hoping to miss the crowds.  This weekend I got a late start, and didn't get there until about 11:40.  Guess what?  It was even less crowded.  I guess a lot of people try to get there at 11, so they can get their swim in, and then get on with their day.  This first group was starting to leave when I got there, so I never had to share my lane, which was great.  It felt really good, and reminded me why I really enjoy swimming.  Then I came home and got cleaned up, ran some errands, and sat down to watch the Preakness Stakes.  The coverage was all about Orb, Orb, Orb, no one else even need bother apply.  I was rooting for Mylute, because his jockey is Rosie Napravnik, and no woman jockey has yet won a Triple Crown race.  We girls have to stick together, right?  Well, Mylute didn't win, but he did come in third, which is the first time a female jockey has placed in the top 3 in the Preakness.  And Orb came in 6th out of 9 horses, well behind the frontrunners.
I don't watch a lot of horse racing.  The triple crown races, once in a great while the Breeders Cup.  Sometimes we go to Golden Gate Fields to watch a race live.  I really like watching, though.  The horses are SO pretty, and powerful, and so single minded.  Thoroughbreds are bred to run, to run fast, and to have the staying power to run that fast for over a mile, sometimes a mile and a half.  I like seeing how high-strung they are, though I likely wouldn't want one as a pet.  Did you know that a race horse loses a LOT of weight in a race?  I've read everything from 40 lbs to 100 lbs.  Almost all of which is water weight.  It's a huge exertion.  Which is perhaps why we haven't had a Triple Crown since Affirmed won over Alydar in 1978.  I remember watching those races with my Grandpa, and being so excited, and having a small crush on Steve Cauthen (the Kid, they called him…he was barely 18 when he rode to victory).  There were 3 Triple Crowns in the 70s, with Secretariat (whose times are still the fastest for those races), Seattle Slew, and Affirmed.  Amazing horses, but I thought, this Triple Crown thing can't be that difficult, can it?  If all of these horses are doing it all the time?  But going through 3 such major stakes races, with the exertion, the stress, the travel, and they're only 3 years old.  It's a huge deal.
Speaking of girl power (we were, weren't we?  a little while ago?), we're getting close to the end of the school year.  Maya's English class has been working on anthologies all year, and Maya's has been rooted in female authors.  They are compiling their anthologies into a notebook, and they are supposed to include a picture of themselves representing their theme.  Here's Maya's pic.  She looks darned good, wouldn't you say?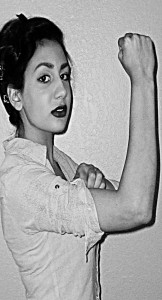 Sunday was a no-sleep-in day, because Maya had to be at school at 8:30, as the school choir and band performed the National Anthem at the opening of the Oakland A's home game.  Pretty exciting, though a long day.  They sounded GREAT, and we had seats in the shade, but I was still drooping by the 6th inning, so we left.  When we left it was 3-2 Kansas, and the game ended 4-3 A's, so YAY!  Glad we won.  Glad I didn't have to stay, though, because we came home and I had a lovely nap.