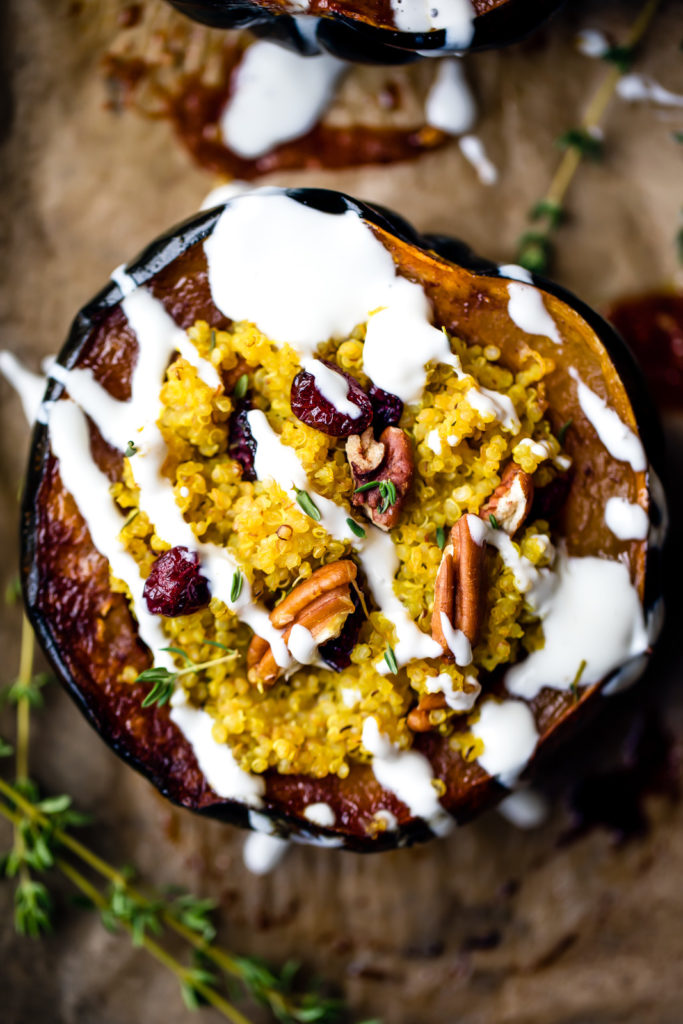 Photo and recipe from Ambitious Kitchen
I was talking to our next door neighbor the other day, and the conversation turned to Thanksgiving. These neighbors are vegetarian, but their family that will be in town visiting are not, so I asked what she is planning to make. She said they would make a turkey for the meat eaters, and she was thinking about a recipe she saw online, for stuffed acorn squash. We have Thanksgiving with Ted's family, and his mother is vegetarian (really, pescatarian), so I thought perhaps I would look at this recipe and see if it seemed like something she would enjoy. The neighbor sent me the link to the recipe, and I made it for our dinner a few nights later, to test it out. It was delicious. Really good.
Ted's family holidays are generally an organized pot-luck, where everyone brings something, so no one has to do all of the work. Ted's mom makes the turkey, stuffing, potatoes, and gravy. We will bring sweet potato pudding, cranberry sauce, and a couple of different vegetables. I am thinking I will make this stuffed acorn squash as one of my vegetables. Ted's mom can have 1/2 squash, as that is her main course, and the rest of us can have smaller servings. I'm also going to make a Brussels sprouts, apple, and pomegranate salad, and then for Ted's dad, because he loves it, peas with pearl onions.
Here is the recipe for the delicious Stuffed Acorn Squash. (Link is to the source of the recipe) SO good.
Stuffed Acorn Squash with Cranberry, Pecans, and Quinoa
INGREDIENTS
For the acorn squash:
2 medium acorn squash, cut in half and seeds removed
4 teaspoons virgin melted coconut oil
2 tablespoons brown sugar
Cinnamon

For the quinoa:
½ cup uncooked quinoa
1 ¼ cups water
2 sprigs of fresh thyme leaves
1 teaspoon virgin coconut oil
1/2 cup freshly squeezed orange juice
1/2 teaspoon honey
1/4 teaspoon turmeric
1/4 teaspoon salt
1/2 cup dried cranberries
1/2 cup pecan halves

For the goat cheese crema:
2 ounces goat cheese crumbles
1 teaspoon honey
1/2 teaspoon apple cider vinegar
2-3 tablespoons water

INSTRUCTIONS
Preheat oven to 350 degrees F. Line a large baking sheet with parchment paper.*

Add 1 teaspoon of coconut oil and 1/2 tablespoon brown sugar to each squash half; use your hands to rub into the flesh of the squash, even on the top (but not on the skin). Sprinkle each squash half with a little bit of cinnamon. Place flesh side down on baking sheet and roast in the oven for 45 minutes to 1 hour or until squash is just fork tender.

While the squash roasts, you can make the quinoa. Add quinoa, water and thyme leaves to a large pot and place over medium high heat. Bring to a boil, then cover, reduce heat to low and cook for exactly 15 minutes. After 15 minutes, remove from heat and fluff quinoa with a fork. Next stir in coconut oil, orange juice, honey and turmeric and stir to combine. Fold in dried cranberries and pecans.
Once acorn squash is done roasting, evenly stuff each squash with quinoa. Bake for an additional 10 minutes.

While the squash is baking again, make the goat cheese drizzle: Add goat cheese, honey, apple cider vinegar and water to a blender and blend until smooth and creamy. Drizzle evenly over each squash half.

NOTES
If you want to save time, you can make the squash and quinoa a day ahead of time. Once ready to serve, simply reheat in oven at 350 degrees for 15-20 minutes or until warm and then make goat cheese crema and drizzle on top.
* My Note: I saw something from America's Test Kitchen, where they said the BEST way to make acorn squash is in the microwave. It comes out tender and creamy. I haven't decided yet whether I have the nerve to try that or not, I'm not generally a fan of microwaving food.