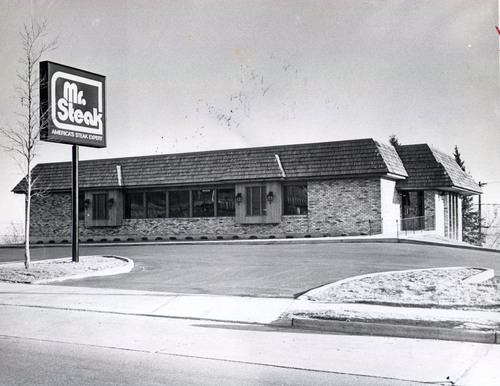 Ted has been asking for that as a title for a post for years now, because all too often, when we're having a conversation about anything at all, I will pop in with a story about my time at Mr. Steak. I worked there for 2 years, from 1982 – 1984. I think the first year was as a hostess, and the second year was as a waitress. So I was 17. Back then, when you took an order, you wrote it on a ticket, and turned the ticket in to the kitchen, and they cooked it for you/your customers.
I remember as a hostess, watching the waitresses take care of their customers, sending back anything they didn't feel comfortable serving. "May I have a different potato, sir?" (We called everyone 'Ma'am' and 'Sir' at Mr. Steak). Or another time when I was a waitress, serving a steak and lobster tail, and I turned around too fast, and the lobster tail went flying off of the plate onto the floor. I took it back into the kitchen and asked for a new lobster tail, ASAP, and they wanted me to serve it anyway. I refused, and threw the lobster tail into the dish area, where the dish pig promptly and happily solved the problem by eating it. Sorry, dish pig is very un P.C., and a rude thing to call a coworker. That is what we called him, what he called himself. Once he took a bite of the lobster tail, they were forced to make another. The customers were close enough to the kitchen that they heard a lot of the conversation, and I got a good tip for insisting on their behalf.
Another night, I was not so lucky. I took a table's order, perhaps my last of the night. When their food hadn't come out after about 20 minutes, I was worried. Remember, I was 17. I did not handle it well. I went back to the kitchen, again and again, asking where the food was, but communication was not good, and they did not tell me that they didn't have a ticket for that table. Perhaps 40 minutes in, the customers are PISSED, and I finally found the ticket…still in my pocket, on the pad of tickets. I never turned it in. Once I found it, I immediately turned it in and begged forgiveness from the kitchen, and then I went to apologize to my table. I told them what had happened, and how sorry I was. I told them that dinner was on the house, approved by my manager, with our apologies. They yelled at me, in front of all of the other customers. They told me how horrible I was and that they were hungry and I had ruined their evening. I brought them their food. They ate it. They left me a $20 tip, unheard of in 1983. I think they felt badly for how they treated me. Perhaps they were hangry. I don't know. I felt badly about how I had treated the kitchen staff, yelling at them because the ticket was in my pocket. I gave them a big tip that night, but probably not the entire $20. I wasn't THAT nice.
Last month, my Great Aunt Flo and I went to dinner at Red Lobester in Stockton. We got our drinks quickly, and our cheddar bisquits, and our salad. Then we sat and waited for our meals. And waited. And waited. Finally a manager came by to ask how our dinner was, and told us that our waitress was in training. I told them all was well, but it had been quite awhile since our salad, and we were waiting for our dinner. Then, a few minutes latter, our waitress came by and said, "it's all my fault, but your dinner will be here in a minute." I had to ask…did you forget to submit our order? Yes, that was the problem. So I told her my story from back at Mr. Steak, and that we were OK. We had had salad and bread, we weren't too hungry, and I had made a similar mistake back in the day, I understand. I told her not to worry. They brought the dinner out quickly, and an extra order of cheddar bisquits for Aunt Flo to take home, and they were grateful for our understanding. I left her a bigger tip than usual, remembering my horrible night. They did not comp our dinner or our wine even, but that's OK. I felt like I was paying it forward in a way, showing compassion to the young staff. I didn't really receive compassion myself in the same situation, but I learned from the experience anyway. I'm glad I did. Not glad that it happened to either of us, but glad that treating people decently was a lesson that I learned.