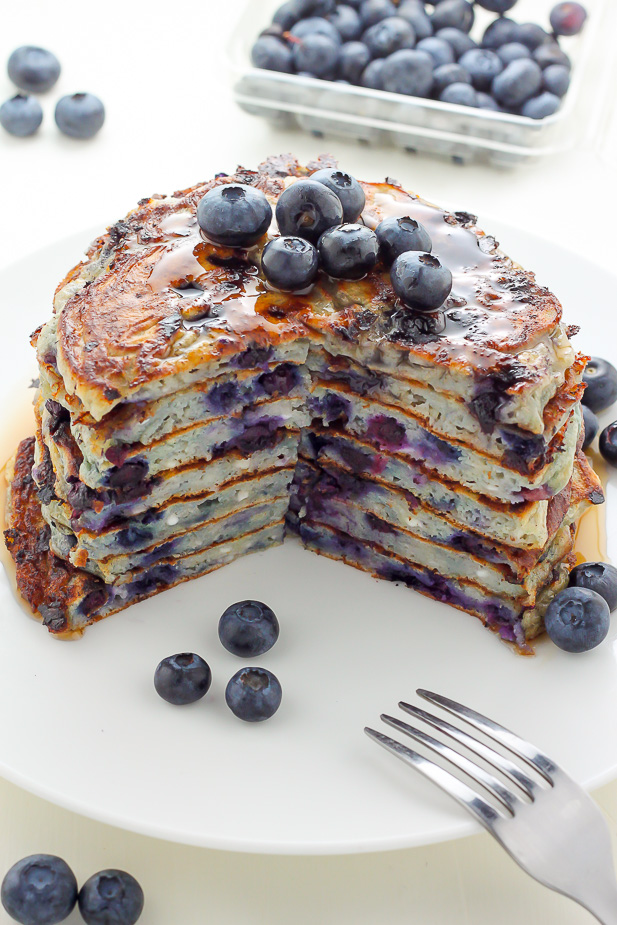 (Gorgeous photo and recipe found here)
It's ridiculous how long I've been gone, I know. When you're in the blogging rythem, and you blog often, everything seems like good blogging material. When you're not, nothing seems like it would be interesting to your readers, so you don't bother. Don't bother often enough, and the next thing you know, it's been over 10 weeks since your last post. Ugh.  So I decided that I would just find something in my brain, and bring it here.  So what you get is yet another recipe.  I'll try to come up with something NOT recipe related soon.
Ted's schedule varies a lot, which means that sometimes he works very early in the morning, and sometimes he works late.  Tonight he works late, until after 10pm.  That means just me and Maya for dinner, which often means 'breakfast for dinner', which she and I both love, and Ted does not.  I made these blueberry pancakes a few months ago when we were having breakfast for dinner, and they're delicious.  The recipe seemed a little weird to me, like there isn't enough flour.  But there is, they work, and they're super yummy.  Next time you're in the mood for blueberry pancakes, give this recipe a try.
The Blueberry Pancakes Of Your Dreams
author bakerbynature

Ingredients
*Makes about 14 pancakes
3 large eggs, separated
1 cup full-fat sour cream
3 tablespoons whole milk
3 tablespoons dark brown sugar
1/2 teaspoon salt
1 1/2 teaspoons vanilla extract
2 teaspoons baking powder
2/3 cups + 2 tablespoons all-purpose flour
1 1/2 cups fresh blueberries
4 tablespoons butter, for the pan
Maple syrup, for serving

Instructions
In a large bowl whisk together the egg yolks, sour cream, milk, sugar, salt, vanilla, and baking powder.

In a separate large bowl add flour and blueberries and toss to combine, making sure berries are fully coated in the flour.

Add flour mixture to the wet milk mixture, and stir just to combine; do not over mix! The batter will be thick, so don't worry if there's a lot of clumps left.

Add egg whites to a large bowl or the body of a stand mixer. Beat using a handheld mixer or the whisk attachment until the whites begin to form soft peaks.

With a rubber spatula fold egg whites into flour/sour cream mixture, stirring until fully incorporated.

Melt 1 tablespoon of butter in a large skillet over medium heat.

Ladle 1/3 cup scoops of the batter into the skillet, only cooking a few at a time so they don't blend together.

Cook pancakes until the edges begin to brown and the top of the batter bubbles, then flip and cook for another 1-2 minutes. Repeat for all pancake batter.

Top pancakes with syrup and extra blueberries, or anything else your heart desires! Serve at once.