picture found here. Isn't it gorgeous? Mine looked nothing like this, as you'll see below.
Just in time for 'Meatless Monday', I bring you a delicious recipe for Eggplant Involtini, which I found in my July/August issue of Cook's Illustrated. I swear, I don't know why I subscribe to this magazine. I find one recipe maybe every 4 issues that I want to try, and then only half of those turn out. So I subscribe for a year, then blow it of for a couple of years, then I get sucked in again. Somehow I got sucked in again this year, and my results have not been great. Mostly the recipes I've tried haven't been stellar. And really, I like my cookbooks to have beautiful glossy photos, which Cook's Illustrated does not.
Anyway, enough bashing of the magazine. Yesterday, while I was deciding what to make for dinner, I thought I'll pull out a couple of issues and see if anything looked good. This recipe for eggplant looked pretty good, and I remember when it first came in the mail, thinking that I'd like to try it in late summer, when eggplants are at their best. (Are eggplants at their best in late summer? I don't even know. It just seems like it, like they're similar to tomatoes in that way.) I've never heard of Eggplant Involtini before, but it looks a lot like Eggplant Parmesan, and this recipe looks to be a little lighter, as it is not fried nor breaded. Results? Delicious. It was indeed a little lighter than Eggplant Parmesan, though still hearty enough for a delicious dinner. I'm going to put in my vote here, again, for Pomi brand tomatoes. I used them in the sauce, and I find them far superior to the canned brands. Get them if you can find them. They're in a red and white box, and the ingredients are: tomatoes. Nice, yeah? Because the tomatoes are not treated with calcium chloride or salt, they don't keep their shape very well. The box has a picture of diced tomatoes, but they come out looking almost like a puree. That's OK. Give this one a try, you won't regret it.
Eggplant Involtini
Ingredients

2 large eggplants (1 1/2 lbs each), peeled
6 tblsp vegetable oil (I used olive oil)
Kosher salt and pepper
2 garlic cloves, minced
1/4 tsp dried oregano
Pinch red pepper flakes
1 (28 oz) can whole peeled tomatoes, drained with juice reserved, chopped course (no, use the box of Pomi)
1 slice hearty white sandwich bread, torn into 1 inch pieces
8 oz (1 cup) whole milk ricotta cheese
1 1/2 ounces grated Pecorino Romano cheese
1/4 cup plus 1 tblsp chopped fresh basil
1 tblsp lemon juice

Pre-heat your oven to 375 F Degrees.

Peel the eggplants. Cut them lengthwise into 6 slices. Each slice should be about ½ inch thick. Trim the rounded ends so that they will lay flat.

Cover two baking sheets with parchment paper and spray them generously with cooking spray. Place 6 eggplant slices on each baking sheet.

Start with the first baking sheet. Brush each eggplant slice with two and a half tablespoons of olive oil (you use the 2.5 tbs olive oil to brush all of the slices) and season it with ½ teaspoon salt and ¼ teaspoon pepper. Flip each slice and do the same thing for the other side. Repeat the same process for the second baking sheet.

Place both sheets in the oven and bake for 30-35 minutes, or until they are tender and lightly browned. To ensure even baking, switch and rotate sheets half way through the baking process.

In the mean time, make the filling. Place 1 cup of ricotta cheese, bread crumbs, ½ cup grated Pecorino Romano cheese, ¼ cup chopped fresh basil, 1 tablespoon lemon juice, and ½ teaspoon salt. Stir until they are all combined. Set aside.

To make the tomato sauce, heat 1 tablespoon of olive oil in a large ovenproof skillet. Add the garlic, ½ teaspoon salt, oregano, and a pinch of red pepper flakes. Stir them with a wooden spatula and cook for 30 seconds. Stir in the tomatoes and cook in medium low heat, until it thickens, about 15 minutes. Cover and set aside.

When eggplants are baked, let them cool for 5 minutes. Do not turn the oven off. Heat the broiler.

Using a spatula, flip each slice over. With the widest side of the eggplant slices facing you, evenly distribute the ricotta mixture onto each slice. Starting from the widest end, gently roll each piece and place it, seamed side down, in the pan with the tomato sauce.

Bring it to a simmer over medium heat. Allow it to cook for 5 minutes.Place it in the oven and broil for 5 minutes for the eggplants to be browned and the cheese to cook thoroughly.
I wanted mine more saucy than was shown in the pictures I found, so I made a bit more sauce, and then covered the eggplant bundles with sauce before broiling.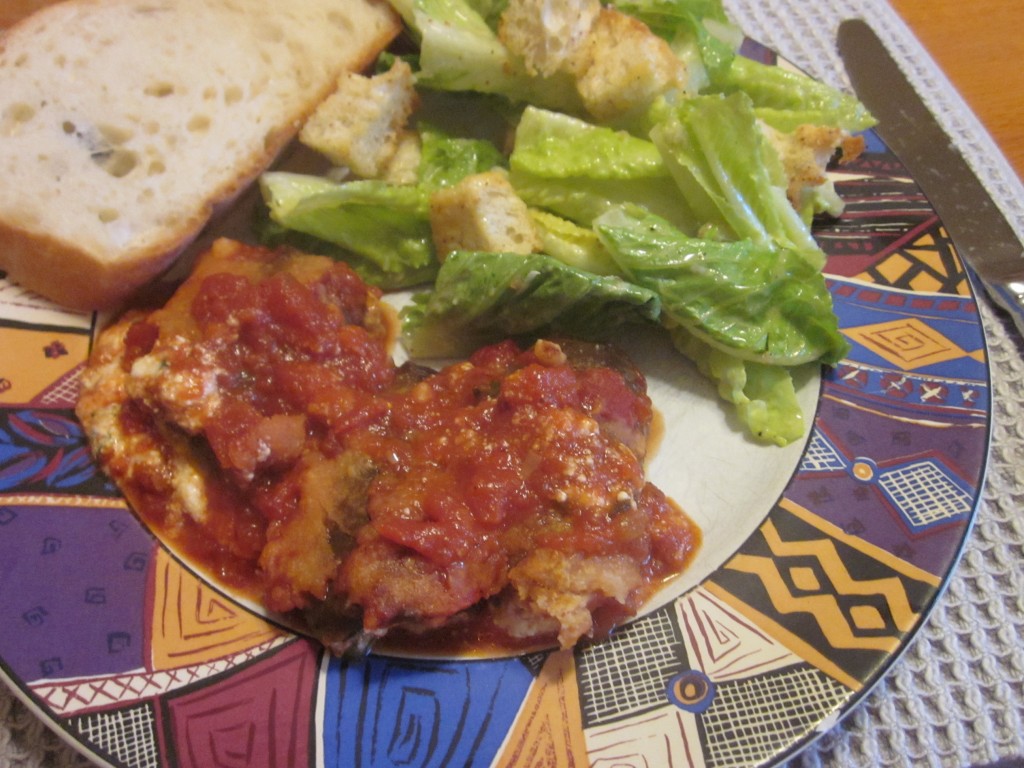 See? Saucy. Not nearly as pretty as the more defined looking recipe from 'Cook's Illustrated', but I don't regret it. I love sauce. I do notice the difference between a professional photographer and me, with the vibrant colors and all.
This was a delicious recipe, and I look forward to having it again. I guess I'll stop slamming the magazine for awhile.