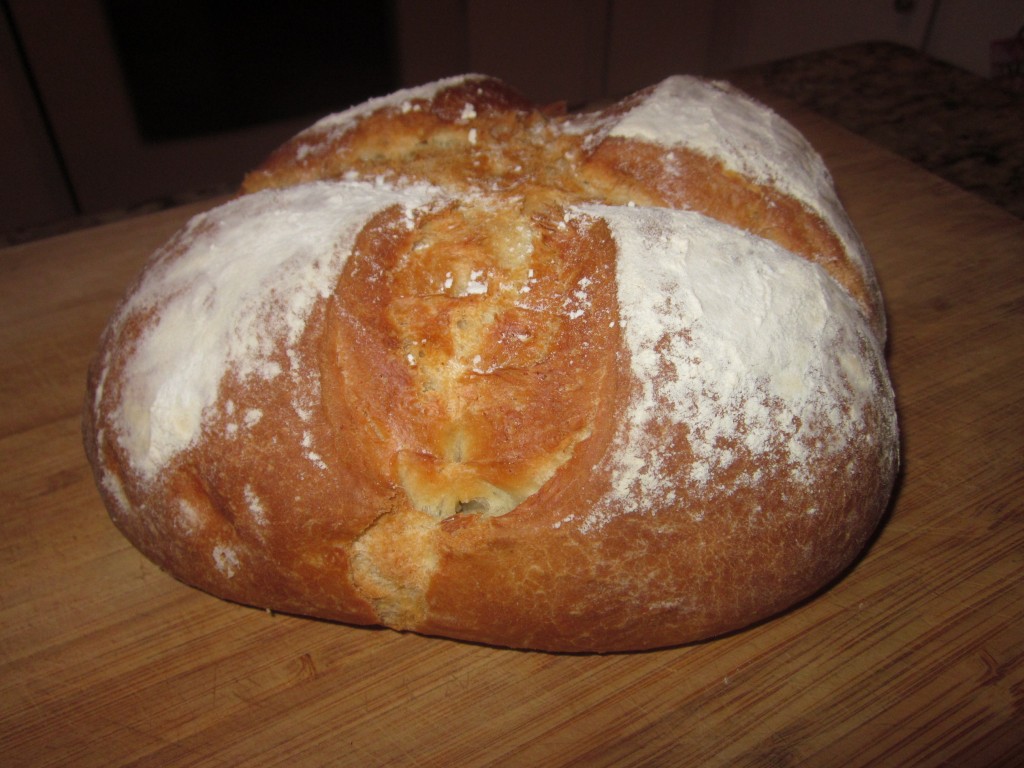 My job has a big rush right before and then again right after the year-end, and then it slows down a bit. I know, I take a week off between Christmas and New Year's, but that's but a brief lull. Now, after all of the states and cities and provinces have announced their tax changes for the year, now things slow down for a few minutes. Now is the time when I can, and do, take a few minutes for me. So…
I made some lovely bread the other day, from a recipe that I snagged from my friend Carla. Delicious. We had it with some split pea soup that I had frozen from New Year's Day. That's a picture up above. Isn't it pretty?
Friday was my annual exam. You know the one. No? Pap. There, now you know. It's my least favorite exam of the year, because it's so invasive. There's absolutely no privacy left at that one. But doing it makes me feel like a responsible adult, because I'm taking care of my health, blah blah blah.
Saturday I'm going to get my hair done.  I have a new method I'm trying.  I used to pay a ridiculous amount to get my hair done…over $150…for color and cut.  I've cut back on costs quite a bit by going to a local Paul Mitchell beauty school, which takes a long time, but saves a lot of money.  Now I've decided to try to save even more.  I like to get lowlights and highlights.  So I colored my hair a bit darker with a bottle from the drug store, and then I'll go in and get highlights.  The drug store color wasn't fabulous.  I think my hair has gotten too long, and I needed two bottles, but only had one.  Also, it's a bit dull.  However, with a professional highlight on top, I think it will be nice, and perhaps even better than the students can do on their own.
Sunday, I'm going for a truly luxurious appointment.  One of my birthday (Christmas?  They run together for me) gifts was a massage appointment at the spa down the street.  Thanks to my wonderful husband, I'll be getting my stress rubbed away.  The spa is attached to a health club, so if I can manage it, I'll go sit in the hot tub ahead of time and make it extra yummy.
Monday, I'm playing hookey from work and going with Maya and the Human Rights Club at her school to serve meals to the homeless and poor at Glide Memorial in S.F.  I'm proud of her warm heart, and that she has belonged to this club for all 4 years of her high school, and worked with a similar club at her middle school, plus donates time to similar organizations with Girl Scouts.
So that's my lovely weekend.  I'm looking very much forward to it.
Other good news, Maya has applied to 7 colleges.  She received her first letter on Thursday, a letter of acceptance from Mills College in Oakland, CA, just on the other side of the tunnel from us.  It's a great school, and she'll have a wonderful education there, if she goes.  It depends on the other schools, of course, and also upon what kind of financial aid offers she gets.  Mills is quite expensive.  She did get a merit based scholarship, but it's not nearly enough.  So we'll see.  But for now, I'm thrilled that she was accepted, and that all of her hard work these last many years is paying off.