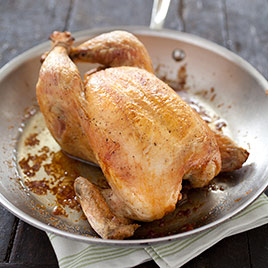 (Image courtesy of America's Test Kitchen, since I didn't take one.)
We enjoy a nice latke and applesauce dinner for the first night of Hanukkah, but we also enjoy a little more to the meal, if you know what I mean. Generally, that means a roast chicken and some easy to prepare veggies. Latkes are kind of worky, and homemade applesauce does take some time of peeling and cutting, so it's nice to have a recipe that you can pop in the oven and ignore while you make your latkes and applesauce. I saw this recipe on America's Test Kitchen, and it was just weird enough to make me wonder. The story they told is that they were trying a recipe, and the power went out in the middle, turning off the ovens. The result? A delicious, very moist and delicious chicken. So without further ado, here is their recipe.
Roast Chicken

Why this recipe works:

Roast chicken is often described as a simple dish, and it is, at least in terms of flavor—when done properly, the rich flavor and juicy meat of the chicken need little adornment. But the actual process of preparing and roasting chicken is anything but simple: Recipes often call for complicated trussing techniques and rotating the bird multiple times during the course of cooking. The most time-consuming part is salting or brining the bird, a step that ensures juiciness and well-seasoned meat. We wanted to find a way to skip this step—without sacrificing flavor—and get roast chicken on the table in just an hour. After systematically testing the various components and steps of a typical recipe, we discovered we could ditch both the V-rack and flipping the chicken by using a preheated skillet; preheating the pan and placing the chicken breast side up gave the thighs a jump start on cooking. Starting the chicken in a 450-degree oven and then turning the oven off while the chicken finished cooking slowed the evaporation of juices, ensuring moist, tender meat.

If you can plan ahead, by all means brine or salt your bird. But when you want dinner on the table in an hour, you need a different way to get juicy, tender chicken. (J's note…I'm just not a fan of brining. It does something to the texture that I don't like. Instead, I prefer to pat the chicken dry, then salt it (don't forget the cavity) and leave it, uncovered, in the fridge for several hours. That makes for a more crispy skin.)

We prefer to use a 3 1/2- to 4-pound chicken for this recipe. If roasting a larger bird, increase the time when the oven is on in step 2 to 35 to 40 minutes. Cooking the chicken in a preheated skillet will ensure that the breast and thigh meat finish cooking at the same time.

Ingredients

1 tablespoon kosher salt
1/2 teaspoon pepper
1 (3 1/2- to 4-pound) whole chicken, giblets discarded
1 tablespoon olive oil
1 recipe pan sauce (optional)  (J's note…remove the chicken to a cutting board to rest, and let the fat separate.  Skim off as much as you can from the skillet.  Put the skillet over medium heat.  Add a bit of chicken broth and/or white wine, and deglaze the pan.  Pour this yumminess over the chicken after you've carved it.  Delicious.)

Instructions

Adjust oven rack to middle position, place 12-inch ovensafe skillet on rack, and heat oven to 450 degrees. Combine salt and pepper in bowl. Pat chicken dry with paper towels. Rub entire surface with oil. Sprinkle evenly all over with salt mixture and rub in mixture with hands to coat evenly. Tie legs together with twine and tuck wing tips behind back.
Transfer chicken, breast side up, to preheated skillet in oven. Roast chicken until breasts register 120 degrees and thighs register 135 degrees, 25 to 35 minutes. Turn off oven and leave chicken in oven until breasts register 160 degrees and thighs register 175 degrees, 25 to 35 minutes.
Transfer chicken to carving board and let rest, uncovered, for 20 minutes. While chicken rests, prepare pan sauce, if using. Carve chicken and serve.
Wow, was this chicken juicy and moist and delicious. You could add whatever herbs or garlic or lemon you want, I should think, but the basic salt and pepper is perfect on its own as well. A strange recipe, yes, but it works.