Posted in
Dogs (mostly)
,
Family
,
Genevieve's Corner
,
Love
on 02/22/2012 04:01 am by J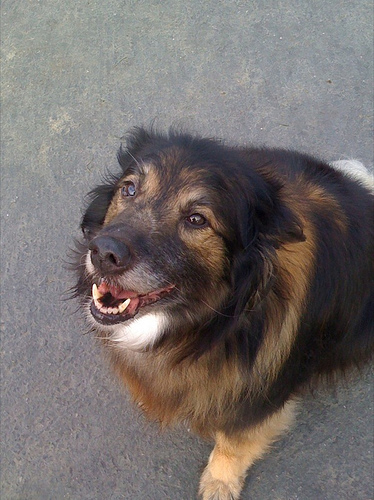 The dreaded day came and went this week. Gen's medical conditions got the better of her, and we decided that we didn't want to keep fixing one thing to just have another pop up. So we put her to sleep on Monday afternoon. We miss her sweet face SO MUCH. She was such a good girl, and we love her so much, and we're so sad. But we know that she's not suffering now, and that making sure she didn't suffer was our responsibility. Damn it.
I keep thinking, I want my dog back. But when I think that, I don't mean the dog that paced the house for hours at a time, unable to settle down. Not the dog that couldn't see and spent her time bonking into things. Not the dog who was losing her fur and had a big bump on her back from injections. Not the dog who was beginning to suffer from seizures. I want the dog back in that picture up there. The dog with the big smile on her face who used to run down the stairs to greet us when we came home. The dog who would lick our toes when we went barefoot. Who would spin around and around and dig up the condo complex dirt when she was excited. The dog who went for long walks with me and slept by our beds. That's the dog I want back. Goodbye sweet baby girl. We miss you horribly.
(Ted wrote a lovely post, with a nice picture montage that shows what a pretty girl she was, here.)