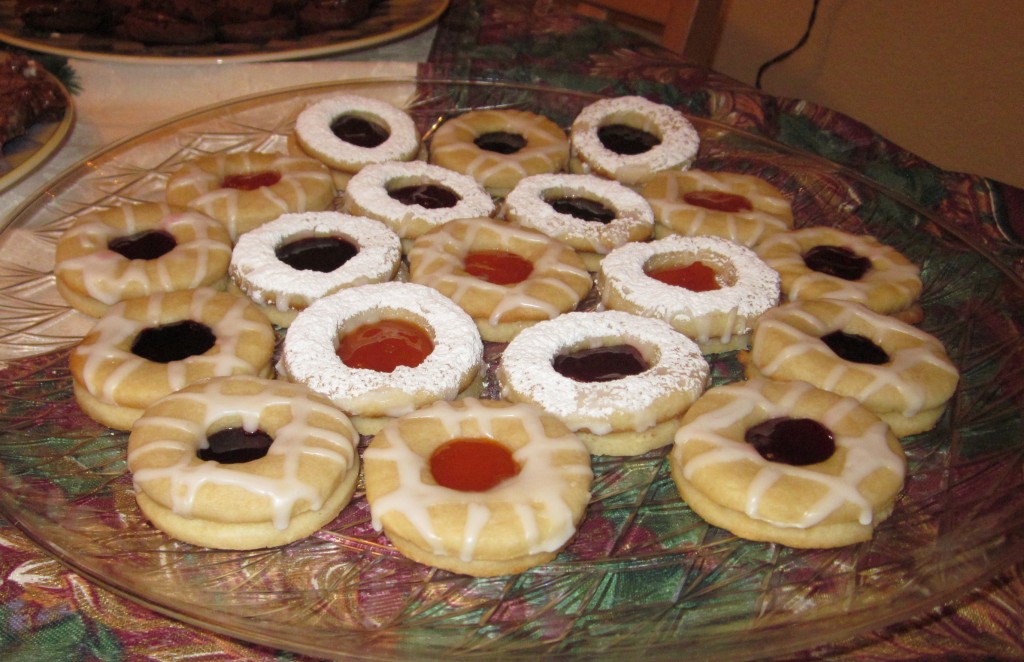 Saturday we celebrated one of my favorite holidays of the year: Baking Day. Baking Day is the day that the family all gathers together at Ted's parents' house, and we each pick a cookie (or other sweet treat) recipe, make it, and then we all take home an assortment of yummy goodness. I like it because it's not a day for large meals and grand statements (like Christmas and Thanksgiving, both of which I love, but it's really nice to have such a casual, fun day there in the middle), but instead it's just a day to come together, bake delicious treats, and at the end of it all, counteract the rich sweetness of it all by feasting on salt and fat in the form of Kentucky Fried Chicken. Yum.
When deciding what to make this year, I saw this recipe online. Bon Appetit is pretty safe for recipes, they're generally delicious, and the picture was beautiful. I love the colors of the different jams, and buttery sugar cookies are a nice counterpoint to the rich (and delicious) brownies/fudge (Joan Lunden fudge…I can see I need to post that recipe as well…) that Ted always makes. I have to say, this recipe was a delicious success. They were buttery, flaky, tender, and sweet. The keys to yummy cookies (as if you'd listen to me, I'm not a baker at all) are fresh ingredients, cold dough, and in this case, I love the hint of lemon in the cookies and the icing. For my jams, I chose apricot, seedless raspberry, and pomegranate/blackberry. All delicious.
Tea Cake Sandwich Cookies
Ingredients

3 cups all purpose flour
1/2 teaspoon salt
1 1/4 cups (2 1/2 sticks) unsalted butter, room temperature
2/3 cup sugar
2 1/2 tablespoons whole milk
1 tablespoon grated lemon peel
2 teaspoons vanilla extract

Nonstick vegetable oil spray
Assorted decorations (such as powdered sugar, icing, colored sugar crystals, and edible glitter)

2/3 cup preserves (such as apricot, seedless raspberry, or seedless blackberry)

test-kitchen tip
Rolling out the dough between sheets of waxed paper cuts out the need for lots of extra flour to prevent sticking.

Preparation

Whisk flour and salt in medium bowl to blend well. Using electric mixer, beat butter and 2/3 cup sugar in large bowl until fluffy. Beat in milk, lemon peel, and vanilla extract. Add flour mixture and beat until blended. Gather dough into ball; divide in half. Flatten into disks. Wrap in plastic and chill at least 2 hours. DO AHEAD Can be made 2 days ahead. Keep chilled. Let soften slightly before rolling out.

Roll out each dough disk between sheets of waxed paper to 14×11-inch rectangle, occasionally lifting waxed paper to smooth out wrinkles. Refrigerate dough on baking sheets, still between sheets of waxed paper, until cold and firm, about 30 minutes. Place 1 dough piece on work surface. Peel off top sheet of waxed paper. Press same waxed paper gently back onto dough. Turn dough over (still between waxed paper sheets). Peel off top sheet of waxed paper and discard. Using 2 1/4-inch scalloped round cutter and with dough still on waxed paper bottom, cut out cookies. Using 1- to 1 1/4-inch scalloped round cutter, cut out center from half of cookies. Gather dough centers and excess dough around cutouts; shape excess dough into disk and chill. Slide waxed paper with cutouts onto baking sheet and chill. Repeat with remaining dough disk, cutting out rounds, cutting centers from half of rounds to make top rings, and gathering and chilling excess dough. Roll out excess dough between sheets of waxed paper, making more cookie bottoms and top rings. Repeat rolling and cutting until all of dough is used.

Position rack in center of oven and preheat to 350°F. Spray 2 large baking sheets with nonstick spray. Using metal spatula to lift cutouts from waxed paper, transfer cookie bottoms to 1 prepared sheet and top rings to second sheet, spacing slightly apart (cookies spread very little). Sprinkle some top rings with colored sugar crystals (or leave plain to decorate later). Bake cookies, 1 sheet at a time, until pale golden, about 8 minutes. Cool cookies on baking sheets 5 minutes. Transfer cookies to racks; cool completely.

Arrange cookie bottoms on work surface. Spread each with 1 teaspoon preserves. Sift powdered sugar over plain cookie rings or decorate with icing and sugar crystals or edible glitter as desired. Press 1 top ring onto each prepared cookie bottom. DO AHEAD Cookies can be made 3 days ahead. Store airtight between sheets of waxed paper in refrigerator.

Icing
Ingredients

3 cups powdered sugar
1 1/2 tablespoons fresh lemon juice
1 1/2 teaspoons light corn syrup
Water

Preparation
Sift powdered sugar into medium bowl. Mix in lemon juice and corn syrup. Mix in enough water by teaspoonfuls to form smooth icing soft enough to pipe but firm enough to hold shape. Divide into 3 or 4 portions and tint with food coloring, if desired.

Spoon icing into pastry bag (or bags if using more than 1 color) fitted with small (1/16- to 1/8-inch) plain tip. Arrange cookies on work surface. Pipe icing onto cookies in desired patterns. Apply decorations as desired. Let cookies stand until icing is dry.
I tried both the icing and the powdered sugar, as you can see. The powdered sugar was far easier than the icing, which oozed out of the top of the pastry bag and made a mess (did I mention, I don't bake?), but the icing, with the hint of lemon from the juice, was delicious as hell. Totally yum.