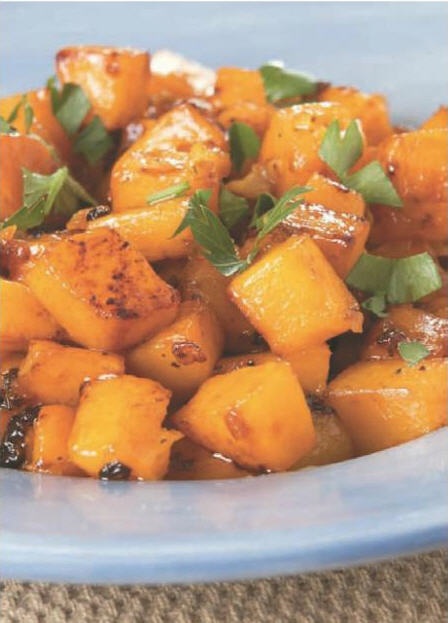 The other day, I was watching Jacques Pepin and his daughter, Claudine, make some gorgeous mini savory cheesecakes on arugula (link to the video and recipe), which I vow that I must try…but haven't yet. On the same episode, they made a butternut squash sauté, where they cooked the squash with butter, apple cider, onions, and a bit of vinegar. It looked and sounded SO good to me, and we're all big fans of butternut squash, so a few nights later, I decided to make it, and serve it with chicken and roast potatoes. I wish I had taken a picture of it, but unfortunately, I didn't. I was too hungry. Maybe next time I make it, I'll snap a picture and put it here. For now, you can look at the one from the cookbook, which has a hazy look to it, but is still mouthwatering enough. It just so happens that I had $20 credit at Amazon (thanks to LivingSocial, so it only cost me $10), so I ordered Jacques' cookbook, Fast Food My Way. Later it occurred to me that perhaps the recipe I was looking for might be in his follow up book, More Fast Food My Way, which indeed, it was. Drat. I decided that if I love the first cookbook enough and get good use out of it, I'll consider ordering the second one, or at least put it on my wish list for a future Christmas or something. In the meantime, I followed the recipe from the video, and then for this post, went on Amazon and did their search within a book feature, and got the exact recipe. It was no different from the video, except in the video they use basil on the dish, and in the recipe, they use Italian parsley. I omitted the herbs all together.
Butternut Squash Sauté

Ingredients:

1 small butternut squash (about 1 ½ lbs.)
1 cup diced onion
1 tblsp canola or peanut oil
3 tblsp unsalted butter
¾ tsp salt
½ tsp sugar
1 cup apple cider
2 tsp apple cider vinegar
2 tblsp chopped fresh parsley leaves, for garnish

Directions:
Peel and cube butternut squash. Put all the ingredients except the parsley into a large skillet, preferably nonstick. Cover, bring to a boil, and cook over high heat for about 6 minutes, until the squash pieces are somewhat tender. Continue cooking, uncovered, stirring occasionally, until the liquid is completely gone. Cook for a few minutes longer, stirring and shaking the pan to prevent the squash from burning, until the squash pieces are caramelized to your liking. Sprinkle with the parsley and serve.

Image and recipe source: Jacques Pepin, More Fast Food My Way
The verdict? Delicious! Definitely a keeper. I think that next year, I may make this for Thanksgiving, either instead of candied yams, or in addition to the yams. We'll let the yam lovers have a bit of say on that one. I can't wait for my book to arrive, so I can see what other recipes Jacques has in store for us.