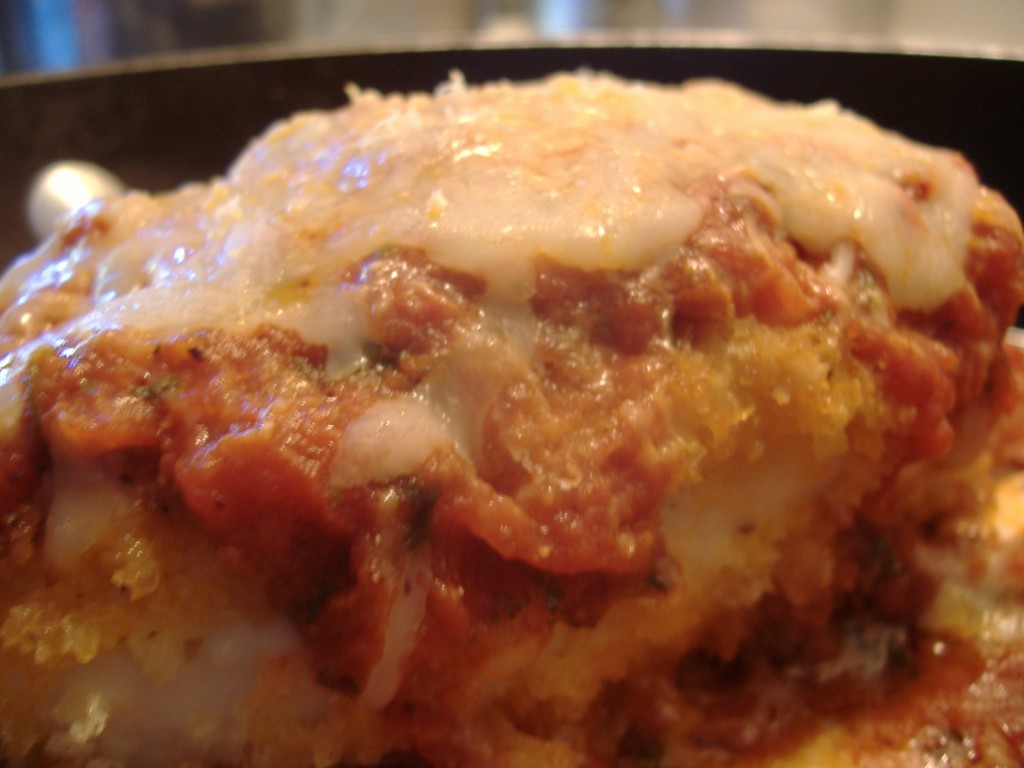 I thought I would share the recipe for Chicken Parmesan that I made with the $10 pasta sauce (on sale now at Safeway for $9!) last week, which I made again last night, because Maya wanted to try it and couldn't last week because her teeth hurt too much after getting her braces tightened. Anyway, I made it again, and this time, I took a picture. I think this is my favorite Chicken Parmesan recipe ever. The keys are: good quality chicken, good quality sauce, Italian Parmesan, and panko rather than American breadcrumbs. They're so nice and crispy, and give the chicken a wonderful texture. Also, of course, don't overcook your chicken. Overcooked chicken breast is a crime, except in my Grandma's house, where it's de rigueur. Give this one a try. It's easy, quick, and delicious.
Recipe courtesy of Cooking Light Magazine.
Ingredients

* 1/4 cup all-purpose flour
* 1/2 teaspoon dried oregano
* 1/4 teaspoon salt
* 2 large egg whites, lightly beaten
* 3/4 cup panko (Japanese breadcrumbs)
* 4 (6-ounce) skinless, boneless chicken breast halves
* 2 tablespoons olive oil, divided
* Cooking spray
* 1/2 cup jarred tomato-basil pasta sauce
* 1/2 cup (2 ounces) grated Parmigiano-Reggiano cheese
* 3/4 cup (3 ounces) shredded part-skim mozzarella cheese

Preparation

1. Preheat oven to 450°.

2. Combine first 3 ingredients in a shallow dish; place egg whites in a bowl. Place panko in a shallow dish. Dredge 1 breast half in flour mixture. Dip in egg whites; dredge in panko. Repeat procedure with remaining chicken, flour mixture, egg whites, and panko.

3. Heat 1 tablespoon oil in a large ovenproof skillet over medium-high heat. Add chicken to pan; cook 2 minutes. Add remaining 1 tablespoon oil. Turn chicken over; cook 2 minutes. Coat chicken with cooking spray; place pan in oven. Bake at 450° for 5 minutes. Turn chicken over; top each breast half with 2 tablespoons sauce, 2 tablespoons Parmigiano-Reggiano, and 3 tablespoons mozzarella. Bake 6 minutes or until chicken is done.