(my final picture came out very blurry, so I took this one from the Williams-Sonoma website, here)
One of our Christmas gifts was this cool ebelskiver pan from Williams-Sonoma (click the link and watch a video of how to make them!).  Ebelskiver are light, fluffy, filled pancakes, originating in Denmark.   I was a little bit afraid that they would be difficult, and they were more difficult than regular pancakes, but they were very good, and I'd like to try some different fillings to see what's what.  We used it for the first time this morning, using a Williams-Sonoma pancake mix, strawberry and raspberry jams, and powdered sugar.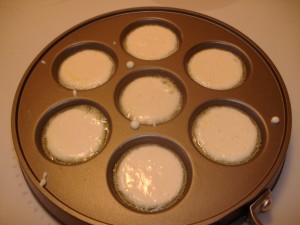 Mix your favorite pancake recipe.  I used a Williams-Sonoma mix that was a gift along with the pan.  The directions, from the Williams-Sonoma website, are the same as on the pan:
Put 1/4 tsp. butter in each well of pan. Place over medium heat, and heat until the butter begins to bubble. Pour 1 Tbs. batter into each well. Place 1 tsp. of your favorite jam or filling in the center of the batter and top with 1 Tbs. batter. Cook until the bottoms are golden brown and crispy, 3 to 5 minutes. Using 2 skewers or toothpicks, flip the pancakes over and cook until golden and crispy, about 3 minutes more. Transfer to a plate. Repeat with the remaining batter.
Dust the pancakes with confectioners' sugar just before serving. Serve warm. Makes about 30.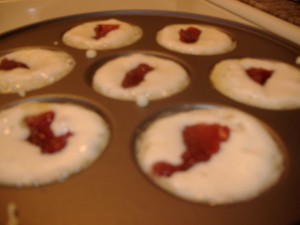 (Ok, this picture is totally blurry, too.  I need a better camera, or at least to learn how to use mine.)
The only thing I didn't like was that for the second batch, the butter started to brown before I had filled all of the wells, so I switched over to Pam, which worked just as well.  Also, the pan really held its heat, so I turned the stove down to low.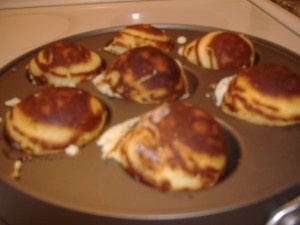 (my pictures all clearly suck…)
If you look at the Williams-Sonoma website, they have several really yummy looking recipes for various fillings and batters.   Look on this page for recipes for blueberry filled pancakes, cinnamin bun filled pancakes, chocolate filled pancakes, and many more.  I even tried one cold later, and they're still yummy, so you could totally pop on in a lunchbox for a treat.