It's been a busy time, since last I stopped by here. The entire month of December is gone, and we're a week into a New Year. So what's going on?
I went to Portland for a long weekend in early December. It was my step-mom's 70th birthday, and I went up to help her celebrate. Ted didn't come with me, mostly because of his cat allergies, which means he can't come inside (or at least not for long) most of the houses for our family. That can work fine in summer, we sleep at a hotel or house sit for neighbors, and we eat dinner in my parents' back yard. That wouldn't work this time, as it was snow and ice everywhere. Maya didn't come with me, because while the party was on Dec 10th, her finals started Dec 12th, so she had to be here to study. So it was me alone. While there, I realized that I believe the only other time I've gone to Portland without Ted and/or Maya, it was January of 1988, when I went up to meet my sisters for the first time. They were 17 years old and in high school. I'm pretty sure that Ted came with me on my trips after that, and there were times when Maya and I went without him (cat issues, or work), or the three of us went. It was nice in a way, though I did miss them. I flew up on Thursday, and on Friday my dad and I went down the hill from the house to help get ready for the party. A neighbor, who has parties and fundraisers in her house often, offered the use of her home for the party, which was great. Dad and Julie live on a VERY steep hill, which is absolutely no fun when it is covered in ice. So to get down the hill can be tricky. We had walking poles, but it was so steep, we decided to slide down the hill on a piece of cardboard. That sounds more fun than it was. The ice was thin, and not at all smooth, and we felt every bump and rock on the way down. The cardboard shredded by the time we got to the bottom of the hill. My dad took this picture of me when I'm part way down. At this point, I'm frustrated, and thinking it would have been more fun to stay in the house with a cup of hot chocolate or something. This little puppy ran out to say hello and urge me on. It worked, the puppy was SO cute, it cheered me right up. The rest of the way to the house was still slippery, but we had our poles, and it wasn't steep, so we were fine.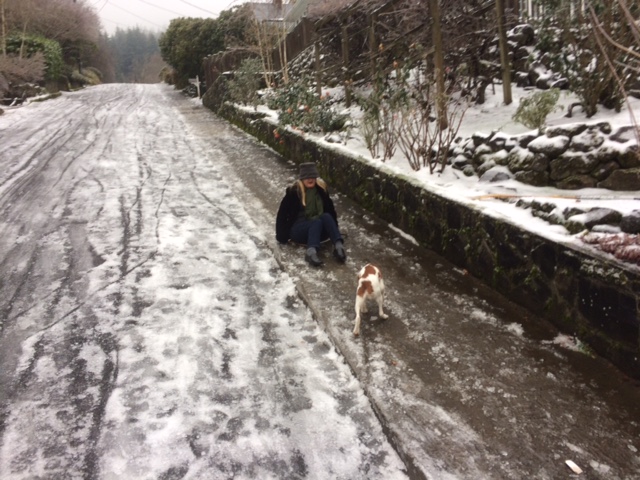 I spent that evening with my sister and her husband, which was really great. They married in March, and we went up to celebrate in September. We've met her husband a couple of times, but this was the first time I got to spend time with just Melissa and Jason, and it was really nice to get to know him better. Saturday, Melissa and I did some Christmas shopping, and had lunch with Jason and some friends. Saturday night was the party, which was great, the ice had melted and everything was lovely. Then Sunday I came home. It was a fun trip.
What else…well, I caught a stupid cold. We had our annual baking day, which was fun, and I put together a box of cookies to bring to my friend Trudy. I used to deliver Meals on Wheels to her, but she went off of the route last year, when she moved from her home to an assisted living facility. I brought them to her on the Sunday before Christmas, and on Monday realized I was sick with a cold. Damn. It was a crummy head cold, which then went into my chest. I didn't deliver Meals on Wheels that week, because I felt horrid, and also I worried about getting the clients on my route sick. I went again the Thursday after Christmas, and I asked another woman on my route, Dana, if she had heard how Trudy was doing. Trudy passed away the Tuesday after Christmas. Crap. I hope to hell I didn't give her my cold. She was 101, and when I saw her last, she was not doing well. Not much appetite, not dressed, just taking it easy. Not really like herself. I am going to miss her, she was a real character and such a sweet woman.
Last weekend was my birthday, and it was beautiful weather, so Ted, Maya, Mulder, and I went to Pescadero, which is a little town at the coast between San Francisco and Santa Cruz. They have a bakery there that sells some amazing bread with artichoke hearts baked inside. So we ate delicious artichoke bread, then went to the beach to smell the salt water. It was a perfect day, and when we got home and cleaned up, we got dressed and went out for a delicious birthday dinner. Here's Mulder at the beach.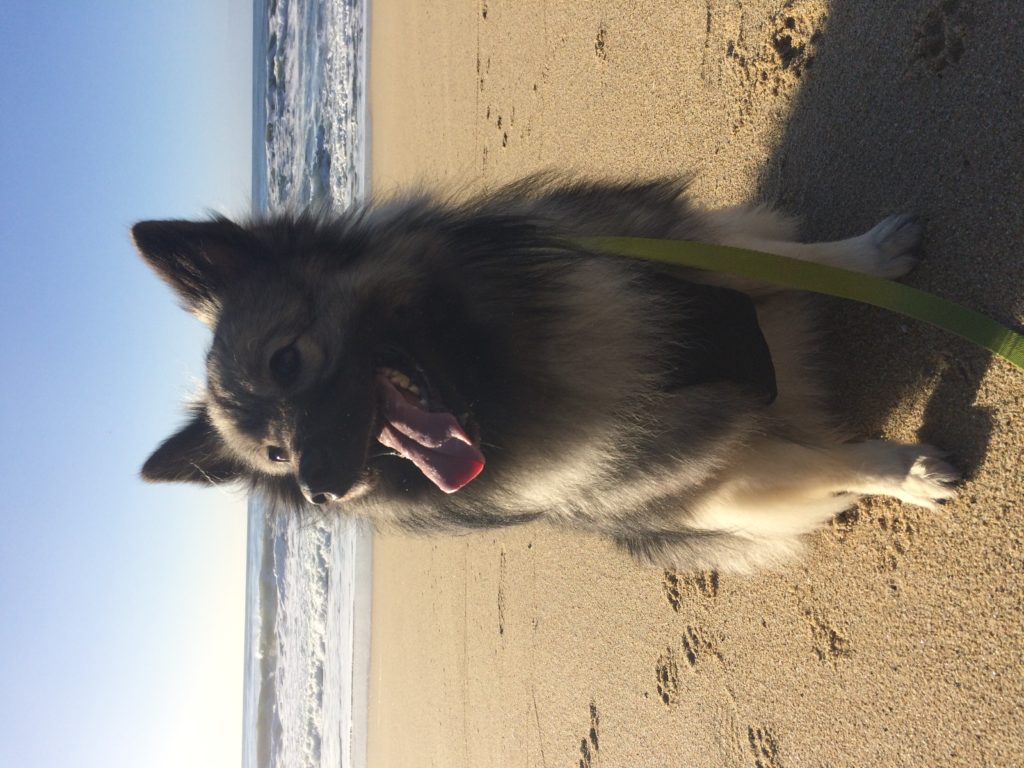 Now here we are, it's a rainy Sunday afternoon. We've been watching the screeners that Ted gets for being part of the SAG-AFTRA Union. We've seen Lion, which we loved, and Fences, which was very good, and I liked it more than Ted did. We have a couple of others that we haven't watched yet. Manchester by the Sea, Jackie, and likely one or two others that I've forgotten. We're supposed to get La La Land, but it hasn't happened yet. We're also watching the new One Day at a Time reboot on Netflix, which we are really enjoying. Mostly it's been a good winter so far, but I could have done without losing Trudy or getting sick. Next weekend we bury my Grandma's remains, and my mom's as well. My Grandma was cremated, and wanted to be buried in the grave with her first husband, my Grandpa Roland, who died when my mom was 5. We are going to bury my mom's remains in with them, as well as a bit of my Uncle Forrest's remains, and a picture of their baby Roland, who died a few weeks after birth. There's good and bad to that. I miss my Grandma, and it's going to be sad. I miss my mom, and that's going to be sad, too. I miss my uncle. Blech, it all sucks. But on the other hand, 4 of the 6 cousins will be there, including my brother Richard, who I don't see often, since he lives in Alaska. I'm looking forward to seeing him.
That's it for now. Hoping you're well.