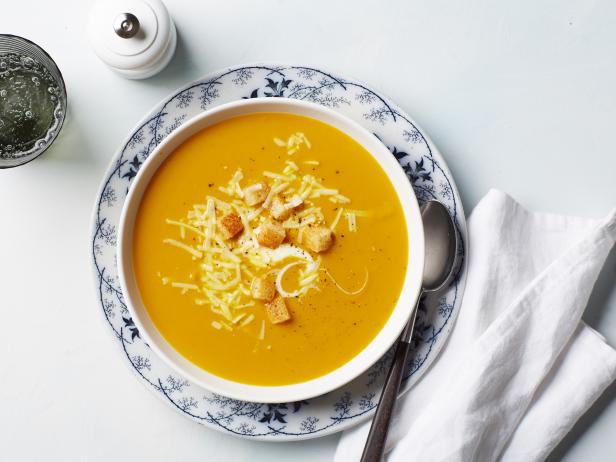 I have a fondness for cooking shows, especially those where they show you how to cook something interesting. Most of the cooking shows I watch currently are on PBS, but I also enjoy watching Ina Garten's Barefoot Contessa. A few weeks ago, she made a delicious looking soup, with butternut squash and canned pumpkin. I thought it looked like a good dinner to have on Halloween, considering it was orange, so I made it. It was delicious, and I will definitely be making it again.
I made a couple of changes to Ina's recipe. First, I cut up the butternut squash, then roasted it in the oven until it was soft, rather than cooking it in the soup. I think that gives it more flavor. Second, I used milk instead of half and half. Third, I don't have a food mill, and I'm not about to go out and buy one since there is zero room in my house for any new ANYTHING, so I used my handy immersion blender, which worked perfectly.
I love butternut squash, but sometimes it is a little too sweet for me.  The pumpkin balanced it out, and maybe the milk did too.  This is a savory soup, and really good.
We didn't put any cheese on ours. I had mine with toasted sourdough bread, and Maya had hers with cornbread, which was leftover from the night before's turkey chili. Ted just ate the soup. We all loved it. Here's the recipe, unedited by me.
Winter Squash Soup

Ingredients
2 tablespoons unsalted butter
1 tablespoon good olive oil
2 cups chopped yellow onions (2 onions)
1 (15 – ounce) can pumpkin puree (not pumpkin pie filling)
1 1/2 pounds butternut squash, peeled and cut in chunks
3 cups homemade chicken stock or canned broth
2 teaspoons kosher salt
1/2 teaspoon freshly ground black pepper
1 cup half – and – half
Creme fraiche, grated Gruyere, or croutons (see Note), for serving (optional)

Directions
Heat the butter and oil in a heavy – bottomed stockpot, add the onions, and cook over medium – low heat for 10 minutes, or until translucent. Add the pumpkin puree, butternut squash, chicken stock, salt, and pepper. Cover and simmer over medium – low heat for about 20 minutes, until the butternut squash is very tender. Process the mixture through the medium blade of a food mill. Return to the pot, add the half – and – half, and heat slowly. If the soup needs more flavor, add another teaspoon of salt. Serve hot with garnishes, if desired.

Cook's Note: To serve with croutons, remove the crusts from 2 slices of white bread, cut them in 1/2-inch cubes, and saute them in 1 tablespoon of butter until browned. Season with salt and pepper.