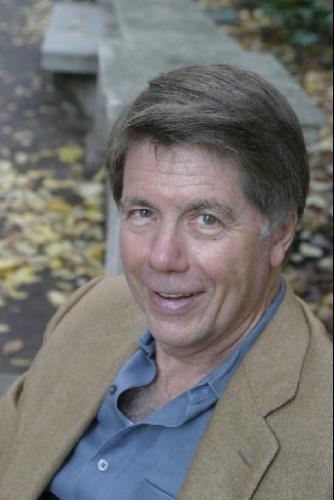 Michael Wells passed away unexpectedly on Wednesday July 5, 2017 while hiking in the Dolomites in Italy on a long anticipated trip with his wife, Julie Lawrence, who was the love of his life. He lived his life true to his moral compass, leading with compassion and by example. In addition to being a devoted husband, father, and grandfather, he was a grant writer, social activist, consultant, journalist, professor, and business owner. He was a thoughtful, quiet man motivated by his strong beliefs to do the right thing, not seeking public recognition for his actions. Yet, because of his dedication to and deep involvement with many organizations and causes, he lived a public life.
Michael was born August 2, 1943 in Martin's Ferry, Ohio to Georgia King Wells and Donald Allen Wells. Michael and his parents moved from Ohio to the central valley of California in 1945. He grew up in Modesto, CA in the house that his father built room by room, over several years.
Michael's strong belief in social justice, civil rights, and equality for all was evident in his lifelong personal actions and community engagement. During his 20's, he was deeply involved in the Civil Rights Movement. He dropped out of UC Berkeley and traveled to the East Coast, where he joined the Committee for Nonviolent Action. He was arrested for civil disobedience in 1963, along with the rest of the group, while traveling through Georgia in the Quebec to Guantanamo March for Peace and Freedom. He also joined The March on Washington. He was again arrested and jailed in San Francisco, CA for participating in the Sheraton Palace sit-ins.
Committed to non-violence, he refused induction into the army during the Vietnam War, and was granted conscientious objector status. He moved to Cambridge, Massachusetts where he served probation alternative service in lieu of military service.
Michael and his first wife, Mary, moved to Portland Oregon. He was founder and editor of the Willamette Bridge, an alternative newspaper that centered around community organizing, and became the fourth largest newspaper in Oregon. He later founded the Portland Scribe in 1972. With the birth of their twin daughters, Maya and Melissa, Michael made Portland, OR his home for the remainder of his life. His daughters were a source of love, pride and happiness throughout his life.
Throughout the 1970's and 80's, he had a varied work life as station manager of KBOO community radio, writing for Willamette Week, fund-raising for the ACLU, grant writing and fund-raising to start Hospice House. It was at this time he completed his college degree and then went on to earn a Master's Degree in Humanities. In 1986 he began practicing yoga, where he met his future wife, Julie Lawrence.
In 1987 Michael received unexpected and joyous news with the discovery of his third and oldest daughter, Julie Ward Asregadoo, whom he enfolded into his life.
In 1987 he started his own business, Grants Northwest. He took his passion for social justice and turned it into his profession. For the next thirty years he wrote grants for nonprofits, championing causes he cared about. Through his work at Grants Northwest, Michael helped over 100 nonprofit organizations, American Indian tribes and local governments to raise over $150 million. Clients included organizations in the arts, aging, alcohol and drug services, community action, education, the environment, healthcare, housing, women's services, youth and minority services. On a national level, Michael was a former board member of the Grant Professionals Association (GPA) where he was Treasurer for 4 years and chaired the 2002 national conference in Portland. He was a past board member and president of the Grant Professionals Certification Institute (GPCI) where he was heavily involved in developing the GPC certification process. Michael also taught grant writing for Portland State University's Public Administration Department. He wrote and published four books on grant writing.
In 1992 Michael married Julie Lawrence in the back yard of their new home. Their 25th wedding anniversary would have been this August. Michael and Julie loved spending time with family and grandkids, dancing and going to theater and dance performances. They also loved to travel — favorite destinations included India, Bali, Machu Picchu, Europe, Thailand, the Galápagos Islands, and the Serengeti as well as several places in the US, Canada, and Mexico.
Michael was a runner for almost 40 years (the name of his Hood to Coast team was the Running Dogs). He was a compulsive reader, tackling several books with varied topics at the same time. Music was central to his life and he filled his home with an amazing variety of music. Michael was an avid volunteer throughout his life as well. He delivered Meals on Wheels for over two decades on the downtown Portland route, was a regular blood donor, served as Board Treasurer for KBOO, and actively volunteered on many political campaigns.
Michael was preceded in death by his parents and his younger brother Robert (Bobby) Wells. He is survived by his wife, Julie Lawrence; daughters and sons-in-laws, Julie Asregadoo (Ted Asregadoo), Melissa Wells (Jason Gibb), Maya Wells (Herb Jahncke); and his grandchildren, Maya Asregadoo, Jack and Sophie Barinaga and Chloe and Justin Jahncke.
(A celebration of his life will be held on September 10, 2017 at 2 pm, Agnes Flanagan Chapel, Lewis and Clark College. In honor of Michael wear something orange.
In lieu of flowers, please consider a donation to the Oregon Community Foundation. www.oregonCF.org