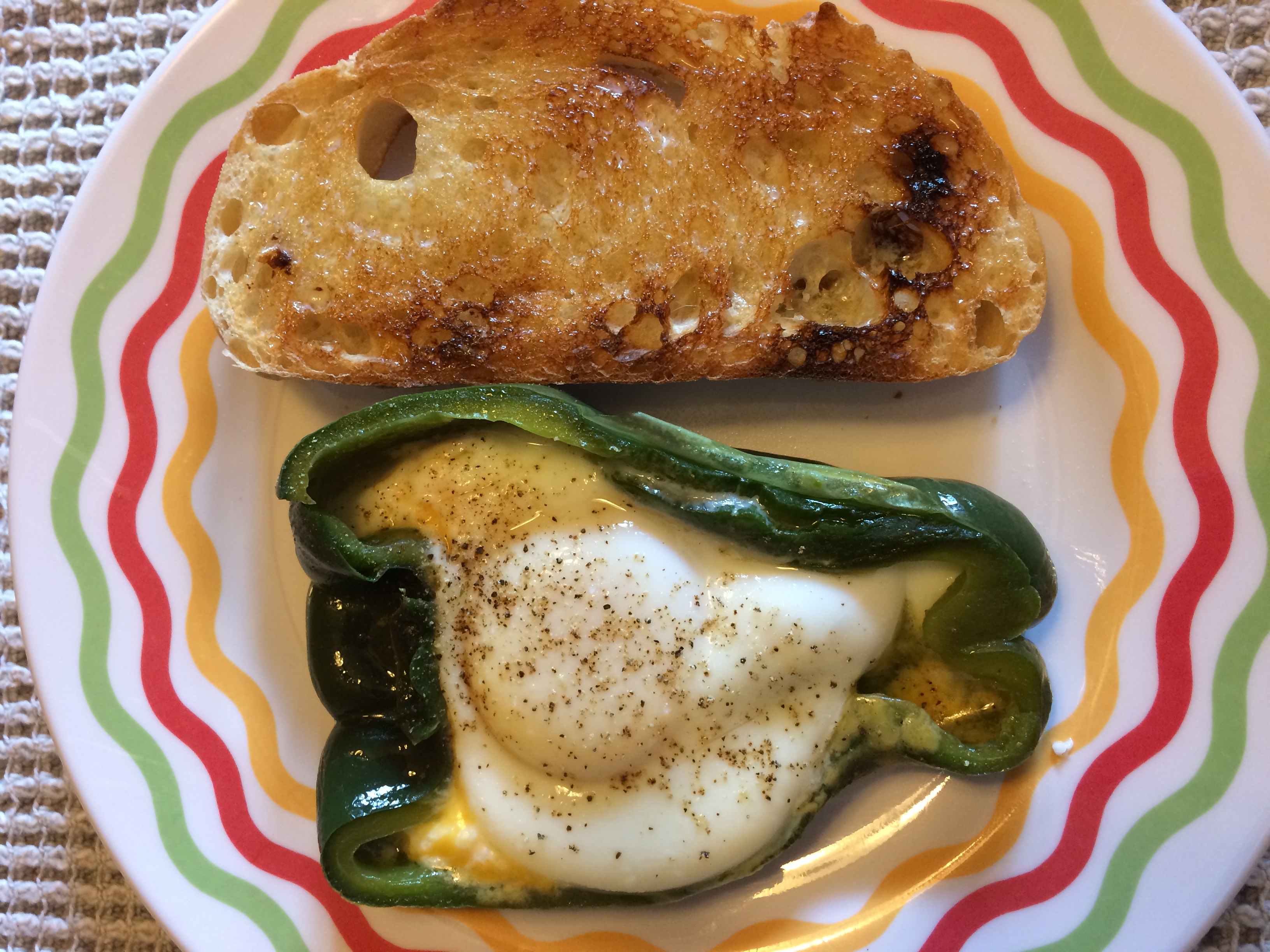 One of my Christmas gifts this year was a lovely cookbook, Heart and Soul in the Kitchen, by Jacques Pepin.  I've tried a few recipes from it, with various levels of success.  This recipe I consider an unqualified success, because it's super delicious and relatively easy.  You cut a poblano pepper in half, simmer it a bit to soften it, then fill the cavity with a little cheese and an egg, and cook it (covered) until the egg is set to your liking.  It's really good.  Depending on how hot the peppers are, it's either spicy or not.  Poblano peppers are not terribly spicy anyway, but I've made this twice now, and there was definitely a difference in heat between the two.
Ted and cheese don't get along as well as they used to, so I made this for him without any, which is clearly healthier anyway.  But not as tasty in my book. And I keep forgetting the cilantro. I'll have to try it that way next time.
EGGS IN PEPPER BOATS

Yield: Serves 4

Ingredients
2 (4 oz each) banana, cubanelle or poblano peppers
4 extra-large eggs, preferably organic
6 tbsp grated cheddar cheese
4 tbsp water
1 tbsp olive oil
½ tsp salt
¼ tsp freshly ground black pepper
2 tbsp fresh cilantro leaves (or as much as you prefer)

For the peppers: Split the peppers lengthwise in half and remove the seeds and the stems if you want. Arrange them cut-side down in a large skillet and add the oil, water and a ¼ teaspoon of the salt and cook, covered, over medium heat, turning occasionally, for about 4 minutes, or until the peppers are softened somewhat but still firm.

For the eggs: Remove the skillet from the heat and, if necessary, turn the peppers over so they are hollow-side up. Place the cheese in the peppers. Break an egg into each one and sprinkle the eggs with the remaining ¼ teaspoon of salt and the pepper.

Return the skillet to the stove, cover and cook over medium heat for 3 to 4 minutes, until the egg whites are set, but the yolks are still runny.

To serve: Transfer to plates, sprinkle with the cilantro and serve immediately.