I am most happy to introduce you to our new teen-puppy, Mulder!
Mulder is 7 1/2 months old Keeshond teen-puppy.  Teen-puppy is my term for his age, because he's almost fully grown (30ish lbs now), but still a puppy in so many ways. Our sweet girl Genevieve was 1/2 kees/1/2 Sheltie. We got her from a local Keeshonden rescue back in 2002, when she was 4. She was such a good dog, and when she died in early 2012 (can you believe it's been that long?), we were heartbroken. As time went by, we eventually decided we were ready to open our hearts and our home to another dog. We thought we'd like to get another Kees from the same rescue, so last December, we put in our application. Then we waited. And waited. And waited. About 6 weeks after putting in our application, having heard NOTHING, I emailed the rescue and asked if there was something wrong with our application. The reply came back, no, nothing wrong, but for better or for worse, NO DOGS are currently available for adoption. She said in her 20 years, they had never had such a long dry spell. I follow the rescue on Facebook, so I had seen several lovely dogs come and go in the last year, and indeed, there had been nothing in the last few months. So we tried to be patient. Every once in awhile we'd get an email…we have a dog…but we were hoping for a young dog, maybe 4 years or younger, and at least mostly healthy, so we wouldn't be starting off with an old sick dog. We know that part is in the future with any pet, but we didn't have the fortitude to start out that way. So we continued to wait.
When we thought maybe we weren't going to get a Keeshond, we went to the local animal shelter a few times. There were some sweet dogs, but none that we fell in love with. We went to another rescue, for a husky, but that dog was a bit too much for my arthritic hands to manage. A sled dog is perhaps not what you want if you don't want to be pulled. Perhaps we could have trained her out of that habit, but she was SO high energy, and not so much what we were looking for. So we tried some more to be patient.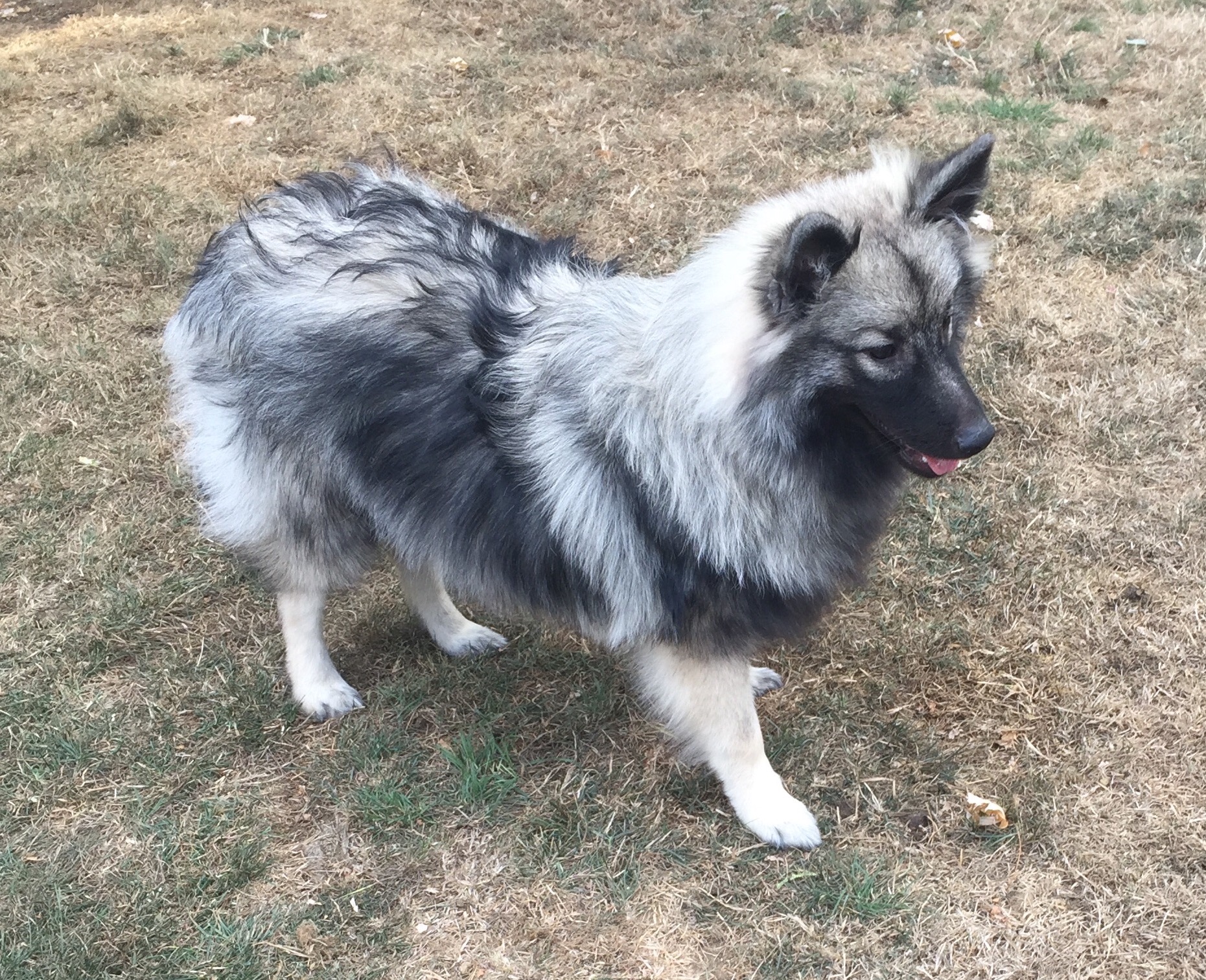 And obviously, our patience eventually paid off. Late in October, the rescue contacted us to say they have a dog! Younger than we were wanting, almost 7 months old, but very sweet, healthy, and would we like to meet him? So off we went to meet him, and we fell in love right away. He had to stay at his foster home for a few weeks, so he could see the vet, be fully evaluated, and then neutered. Then we could bring him home. Last Saturday was the day, so we've had him for just over a week now. He is certainly a puppy, and he has to learn our confusing and weird rules, such as, no dogs on the beds. No dogs on the sofa. No dogs on the recliner. Very strange for him, as he was allowed full access to the furniture at the foster home, and perhaps at his last home before that as well. He has to learn that sometimes we leave the house, but that we will come back. He has to learn to rest in his crate when we're gone, because we're not thrilled with the idea of him chewing up our house while we're not here to supervise. He has to learn to walk nicely on the leash. He has to learn to not bark at EVERYTHING. He's learning pretty well. His barking has decreased substantially, he rarely tries to get on the furniture now, and he likes his crate (as long as he's not locked in…that he doesn't care for). He's in his crate right now, playing with one of his toys, though the door is open. We'll close it at some point so he can get more used to that. He's playful and sweet and SUCH a good boy. We're really enjoying having him in our home. So please, say hello and welcome to Mulder.
In other news: Today is my 10 year blogiversary. I had several real-life friends and family with blogs early on, and I met many new friends through blogging. I have enjoyed coming here, and coming to your blogs, and seeing the world though a bit of a different lens, over these last 10 years. My involvement has certainly waned as of late, but that's OK. Maybe I'll get more into a daily blogging groove again someday, maybe not. But I'm happy to be here, happy to share this part of my life with you, happy to have these friendships. Happy blogiversary to me.  P.S. My spell-check knows how to spell 'blogiversary'.