Yesterday found the three of us going into the City. For Ted, it was a work day, so we dropped him off a few blocks from his office, and then we went to have some fun. We met up with our friends, Marilee and Paul. Marilee is my dear friend, whom I met in Latin class while studying at San Francisco State back in the early 90s. Paul is her wonderful husband, who she met on an archilogical dig in Greece. We went to b. Patisserie on California Street, and enjoyed kouign-amann, the lovely pastry that you see above. I had never heard of kouign-amann, but it is similar to a croissant, though sweeter and a bit crisper. Delicious. The picture above I took from the Wikipedia page on kouign-amann, though it was taken at this same little restaurant. We spent a lovely hour or so there, catching up and enjoying our coffee and sweets. It was perfect.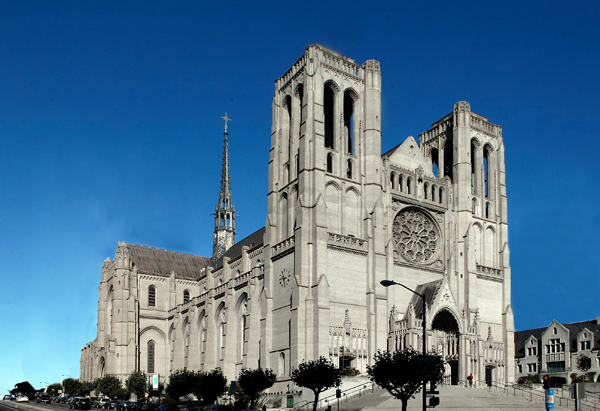 Then Maya and I drove to Grace Cathedral, which is actually only 2 blocks from Marilee and Paul's house, and they walked back from the restaurant, but the arthritis in my feet would not have allowed such a journey. It's almost 2 miles (from the restaurant to GC), which my feet can do, but I would have suffered the rest of the day for it, which did not interest me. Also, pretty steep hills. Anyway, Maya is taking a class in Art History that she is really enjoying, and one of her assignments was to go to Grace Cathedral, it being the closest Gothic Cathedral to us. Paris would have been better perhaps, but much more expensive.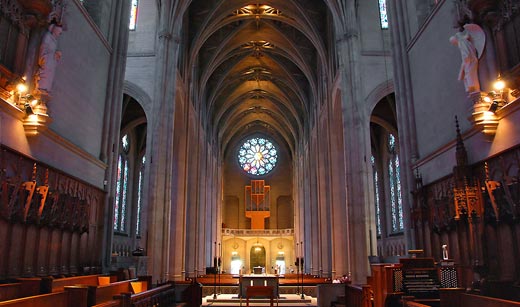 I've been to Grace Cathedral once before. Another dear friend of mine, Janet, was married in one of the chapels there, way back when Maya was a baby. I did notice how grand and beautiful it was at that time, but I was also busy being a bridesmaid and doing bridesmaid things, so this time I had more time to look around. The architecture, the pointed arches, the art on the walls, the gloreous stained glass. It was wonderful. We spent about an hour and a half there, really trying to get a good feel of the place. If I were religious, and if I lived in the neighborhood, I think I'd stop by from time to time. Heck, even if I just lived in the neighborhood. Really beautiful.
We were intrigued by the frescos on the walls, which depicted the history of California and of the Church. This one depicts the fire of 1906 that destroyed the old Grace Church, the predecessor to the current Cathedral. After the earthquake and fire, the Crocker family, which had had a mansion at this location which burned to the ground, they donated the land so the Cathedral could be built.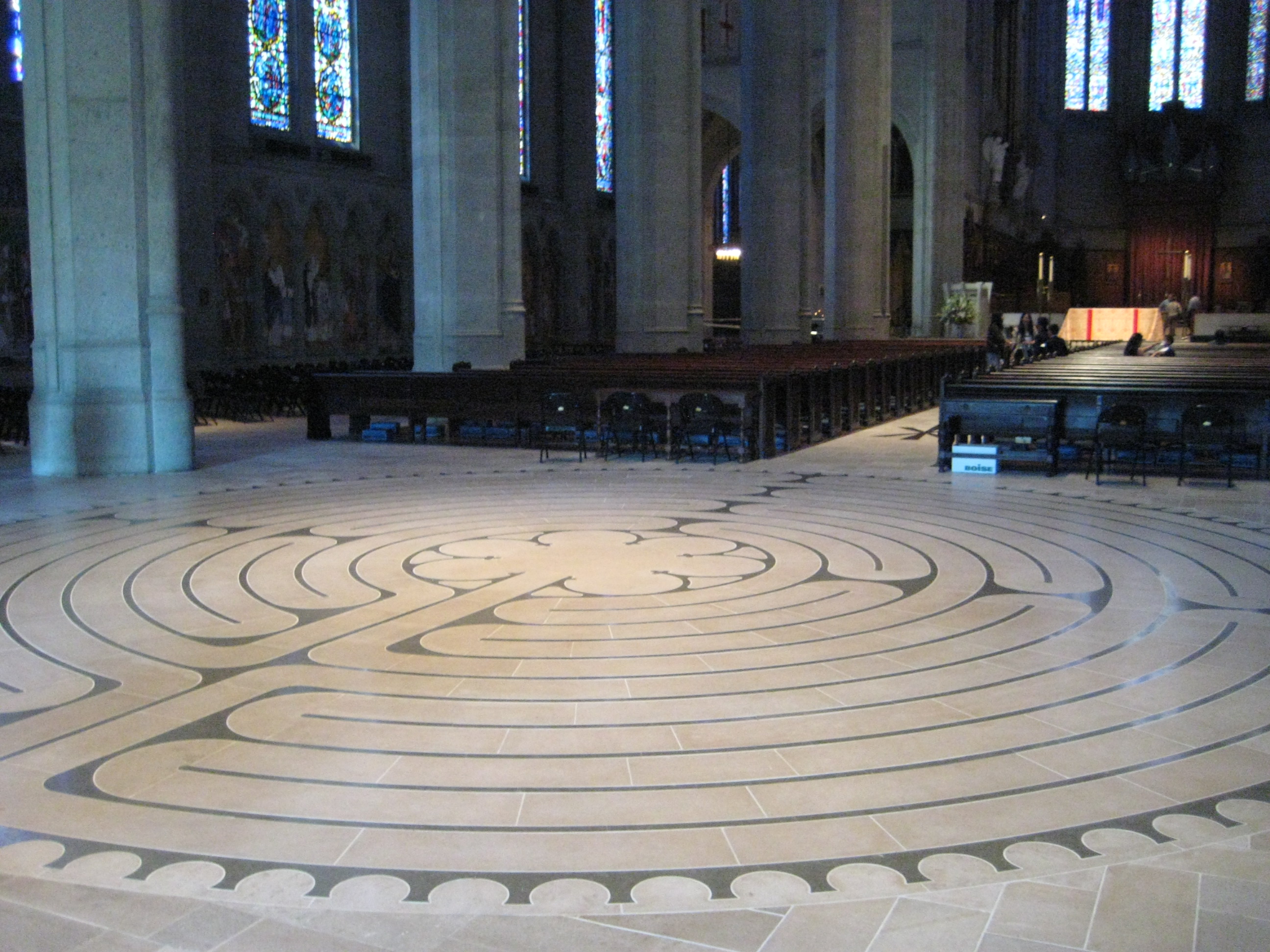 I considered the labyrinth inside the Cathedral, and started to walk it, but found my mind wasn't in the right place for it. Perhaps it was the $2.75 per 15 minutes I was paying to park at the garage across the street, perhaps it was the beautiful architecture and art surrounding me, that seemed a better use of such expensive time. It is supposed to be very calming, and to help one spiritually. You can read more about it, if you're interested.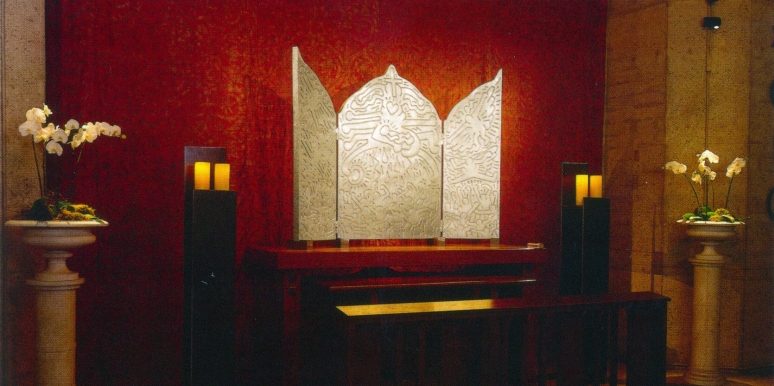 We took a moment to stop in the Interfaith Aids Memorial chapel of the church, to remember the friends I had who died from Aids, back before the current medicines that are allowing people to live so much longer with the disease. Two of my coworkers from my hotel days, Damon and Shelby, both died horrible deaths. Ugh. It was a long time ago, and it was nice to reflect on their lives.
From there, we drove over to Nordstrom, so Maya could get her leather boots shined. She had been playing soccer in them with some kids at her work (She works in the after school care at her old elemtary school), and the boots were pretty dirty. That task accomplished, we shopped a bit, then voila, Ted's work day was over. So we went to pick him up, and then we went to dinner.
We went to the Clement Street Bar and Grill, a sentimental favorite. My friend Janet first took me there, I think, or at least suggested it to me when I first moved to SF in 1987, I don't remember which. It's where I had dinner with my parents that same fall, the first day I had ever met my dad. It's where Ted and I, with some friends, celebrated our graduation from college in 1990. It's basic California cuisine. I don't think the menu has changed much over the years, but that's OK. Ted had a delicious steak, I had lovely crab cakes, and Maya had a goat cheese salad.
It was a lovely day, but by the time we got home at a little after 9, we were tuckered out, and ready for bed.