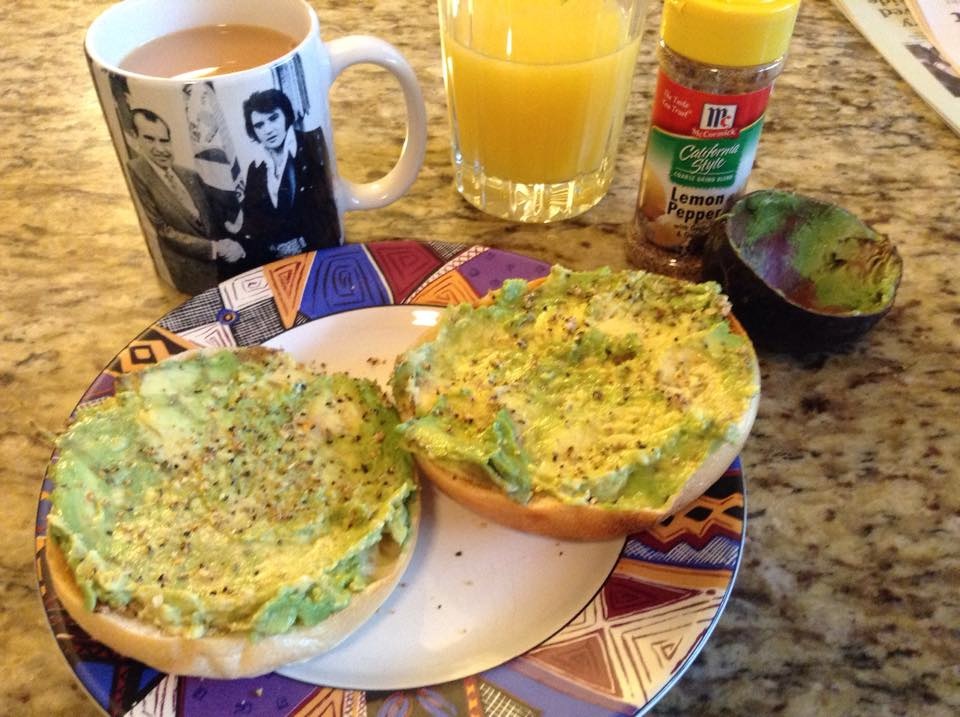 Look at that awesome breakfast. Bagel, toasted, with avocado and lemon pepper. That's it. So delicious. Served with OJ and tea (PG Tips, a bit of milk and sugar). One nice thing about Facebook is that some people post pictures of their food, and you can choose to be inspired by their pictures. I'm not sure I would have come up with this combination on my own, so thank you Facebook!


Then there's this…the Gluten Free Museum. Famous paintings, with any offending gluten removed. Click the link to see more awesomeness.


Are you a fan of the 'Little House' books, by Laura Ingalls Wilder? If so, and if you like knowing the background behind these fictional books, I recommend the newly released "Pioneer Girl: The Annotated Autobiography". It's an amazing amount of research into almost every detail of Wilder's unpublished autobiography, "Pioneer Girl". Wilder first put her memories down and tried to publish them as "Pioneer Girl", which is the story of her early life. The story is not written for children, and has some darker elements than the 'Little House' stories. The decision was made that the stories would better be told as children's books, and Laura and her daughter Rose worked through the same material, and they turned into the 'Little House' stories that we all know and love. The difference between reality and fiction is sometimes jarring. That she had a little brother, who died as an infant, I knew. That the infamous Nellie Oleson was a composite of several girls in Laura's youth, I knew. But that Jack, Laura's beloved brindle bulldog and constant companion, was actually given away when Laura was 4…that was too much for me, and I thought I was going to have to breathe into a paper bag to keep from passing out.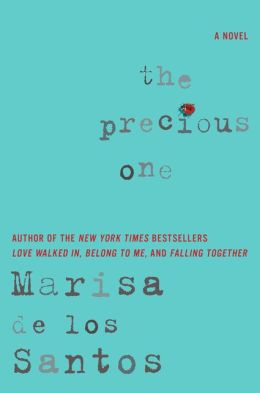 If you're looking for a good book to read, I really enjoyed 'The Precious One', by Marisa de los Santos. I've read a couple of her other books, and I really enjoy them. They're light enough to be an easy read, but I love her writing and her lovely use of language.  Without giving anything important away, this is the story of Taisy and Willow, sisters 18 years apart in age.  They share the same father, who is imperious and overwhelming and towers above their lives. They've only met once before, when Willow was a baby, when Taisy comes to stay for a short time at the request of their father.  Taisy is determined to find answers to how her father turned out to be the man he is, the kind of man who would leave her, her mother, and brother, and start over with a new wife and daughter.  Willow is focused on her dislike and jealousy of Taisy, and trying to navigate the treacherous waters of High School, after a life of being home schooled.
Ted and I went to see 'Wild Tales', which was in town for about 15 minutes.  We're fortunate that there's one theater in town that plays independent and foreign films. I knew nothing about the movie going in, except that I wasn't interested in any other movies that were playing, and that it was a foreign film. It's a series of stories with a common theme, and that's all I will say. Also, fairly dark, but not horrific, and pretty laugh out loud funny in some parts. Ted thought one woman in the audience was going to choke, she was laughing so hard. I'll be watching for it to come to Netflix or something, so I can see it again.
Whew.   Now you're all caught up.  I can't believe it's been so long since I've posted…I blame my iPad.  I don't really like the WordPress app on it, so I get frustrated and don't bother.  For this post, I pulled out my old laptop.  I should do this more often, clearly. I'll leave you with the knowledge that Maya is now 19, and that we had a lovely weekend celebrating. Also, if you like to laugh, go look at this.