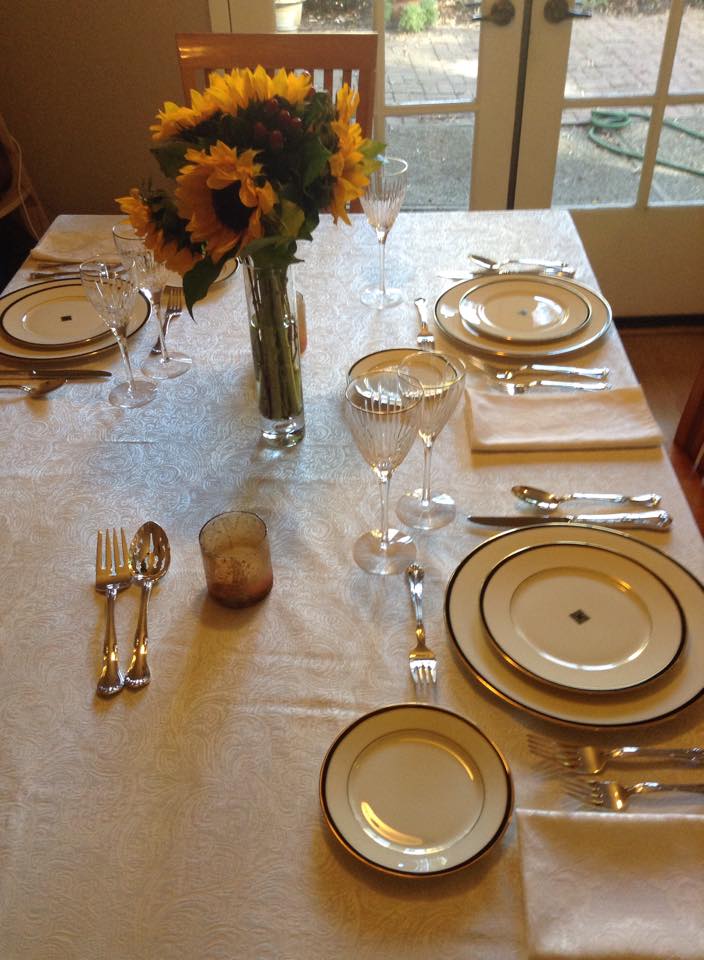 Happy Thanksgiving to my Canadian friends! Our Friends to the North celebrate Thanksgiving in much the same way we in the U.S. do. Get together with family, eat some turkey, stuffing, sides, maybe a pumpkin pie. Very nice. My loyal readers will remember that my darling husband, Ted, was born in Canada, and has citizenship there, though he's not claimed it in any way at this point. Because we are a family that enjoys celebrating life when we can, we like to have a Thanksgiving feast in October, just us, and then again in November, with Ted's family (my parents came to California last year and joined in, which was wonderful). So I spent the day cleaning and shopping and cooking. Set the table with our wedding china, crystal, and silver. I vowed years ago to start using it more often, but when I said those words, I lied them.  (My little homage to Dr. Seuss there…anyone know which story?) So we haven't broken out the good stuff all together in years. You know what? It was really nice. The table looked beautiful, the food was delicious (even if I do use Stove Top stuffing rather than making my own), and we had a really nice evening.
Here's the menu:

Turkey and Stuffing for Two (I doubled the recipe)*
Cranberry Sauce**
Crescent Rolls (from the tube)
Spinach Salad with pomegranate seeds, avocado, Granny Smith apples, and mandarin oranges, with Julie's OJ and honey dressing.
Dessert – a trio of tiny treats, which I purchased at the bakery. Fruit tart, petit fours, and cheesecake brownies.
We had flowers and candles and wine. It was lovely. Generally, we have Canadian Thanksgiving dinner on Monday evening, but this year it made sense to do it on Sunday, which appears to be more authentic anyway. So yay us! It was a little strange, though, as it got up to be almost 90 today, and the talk is about the Giants and their World Series dreams.
It's Sunday evening as I write this. The Giants just lost game 2, but it's best 4 out of 7, and it's currently 1 game each, so don't give up yet. (I pretend to care, when one of our local teams get this far. Truly, of course, why would I care? The players don't know me or care about my victories and losses, so whatever.) Ted's celebrating Thanksgiving by watching "The Walking Dead". Ugh. I think I'll read my book, this is far too gory for me.
Happy Thanksgiving, everyone!
* The formatting here is bugging the crap out of me. I've fixed this list 3 times, and it keeps getting wonky. I'm going to have to ask you to just ignore how wrong the spacing is on the bullets here, if indeed they are rendering strangely on your screen. For me it's fine once, then a mess again.
** I had a bit of trouble with my cranberry sauce.  It's early in the year for fresh cranberries, but I found frozen.  I didn't have time to thaw them before boiling with sugar and water.  I don't know if I didn't boil them long enough or what, but after a couple of hours, they still hadn't jelled.  I read online to add a little pectin, which I didn't have.  I remember reading that apples have pectin, and I've made strawberry jam with strawberries, sugar, and apples, so I diced up about 1/3 of a Granny Smith apple and threw that in, cooked for maybe 8 minutes, and then let it cool.  I had to put it in the freezer to get it cool in time for dinner, but it worked.   Whew.  Thanksgiving is NOT Thanksgiving without cranberry sauce.