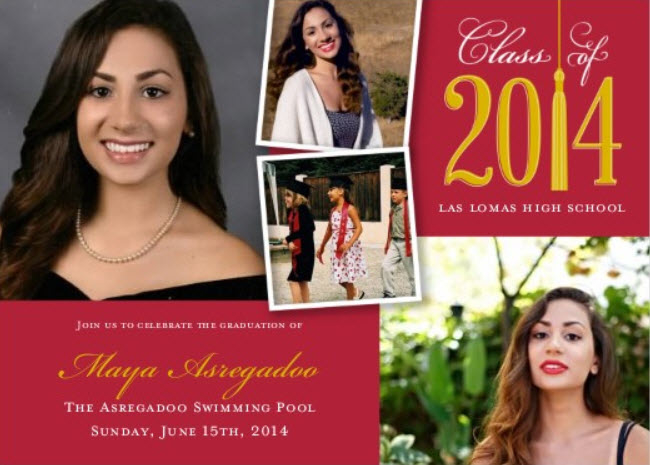 Isn't that a cute Graduation Invite, for a proud parent to send out to invite her friends and family to show off her daughter, and celebrate said daughter's accomplishment in school? Yes, it is. See how cute, the picture of her Kindergarten graduation? Her official Senior photo (in my great aunt's pearls), her other, casual Senior photos? Sigh. The thing is, Maya doesn't want a graduation party. She doesn't want to hang out with a bunch of Ted and my friends, feeling self-conscious because everyone is looking at her. She and her friends will have been partying at the 'All Knighter' (They're the Knights), and she'd rather go from party to party at her friend's houses. I don't blame her. But still, I'm a little disappointed. I have attended parties for several of my friends' kids, and I enjoyed them. I enjoyed admiring the graduating senior, hearing about their plans going forward, all of that. I want my friends to enjoy that coming to see my child. So here I am, letting it go. LETTING IT GO. It's her graduation, not mine. I'll have a party later in the summer with my friends, and we will have a lovely time. They will admire my child, not because it is her graduation, but because they love her, and they love me. So there.
Friday afternoon, our front door lock broke. Always on a Friday, right? Of a holiday weekend? That's when the kid comes down with a fever (though generally they wait until the doctor's office is closed), the stove/air conditioner/hot water heater goes out, that kind of thing. All things you want fixed NOW, and you will have to wait until Monday. I've heard that what duct tape doesn't fix, WD-40 will, I tried oiling the dead bolt. No help. (The issue was that the dead bolt would only come out about 1/5 of the way, not the full extended way.) So I took the door knob thing apart (two little screws were all that was needed), figured out what was wrong, then went to look in my 'fix everything around the house' book that my Grandmother gave us years ago. No help at all. None. So I took the pieces to my local Ace hardware store, hoping that they could either tell me how to fix it, or sell me a replacement. Nope. However, at 4:40 in the afternoon, they gave me a recommendation to a local locksmith. Across town. So I called them and asked them if they could maybe stay open until I got there. They helpfully said yes. Across town I sped, thankfully against the afternoon traffic. I got there at 4:55, before they even had to stay late. The locksmith took one look and said, "Nope, can't fix it. The part that's broken, they don't sell just that part." So we looked at the several options. One was $15, but very temporary. One was $300, and required us installing the new door stuff ourselves. The fact that I call it 'door stuff' should inform you about how good I am at this stuff. Ted is better at it than I am, but he's not a handyman, he's an academic. The third option was to pick a different brand of hardware (aka, door stuff), which would be cheaper on the parts, but would mean drilling and painting our stupid door. Blech. So here I am, it's 5:05 on Friday of a three-day weekend, and I'm frustrated. Finally, the locksmith said, "There's another option. I can remove the broken part, which isn't necessary. The broken part, being broken, is getting in the way of the rest of the mechanism. It will certainly get you through the weekend, and it may even work long term." OK, I'm in. Why couldn't he have suggested this to begin with, I wondered. However, all I said was, "How much?" Free. I love that price. I said no, he should be paid for his time and expertise, and he said no. So he took out the broken part (which required some expertise to do), and I took it home and put it back together. The door knob is looser, doesn't fit just the same anymore, but it works. It works well, locks properly, and was free. So I went on FB and yelp and gave full props to the locksmith, hoping maybe I could pay them back in some way. If the solution falls apart and it turns out that we need something more, they've earned my business and I'll go back to get a long term solution.
This morning, Maya had a job working for one of her teachers (who has a successful side business, Pinot Days, very wine related), so while she went and took care of that, Ted and I went and ran errands. We went and picked up the badges earned by Maya's Girl Scout troop, then to breakfast at a place we haven't been to before. It was tasty. It was a little expensive for a semi-fast food breakfast place, but the quality of the food was good. We liked it. Then we went to the farmers' market and got the essentials…strawberries, nectarines, and eggs. We ran a few more errands, then came home, and I took a delicious nap. Saturdays can be lovely indeed.
The other day I went to the video store…we still have a video store we love to try to keep open. I picked up a DVD, 'Labor Day', with Kate Winslet and Josh Brolin. For some reason, I knew nothing about the film, and thought it might be a romantic comedy. It wasn't. It was closer to a love story. Josh Brolin is an escaped convict, convicted of murdering his wife and child, who forces his way into the home of Kate Winslet and her young teen son. He's camping out for a few days. The pace is slow, the acting superb, the story not quite as dramatic as you might want, but at the same time, because of that, it seems more real. We really liked it a lot.
I'm reading the new 'David Sedaris' book, borrowed from our library. I like it a lot, though I can't plow through it as quickly as needed for the online rental. We'll see how I do, if I finish in time.
In other news, I tried a new quinoa recipe. YUM. So good. I'll post it here soon. It had pickled onions, nectarines, and arugula. Really good.
Enjoy your weekend.