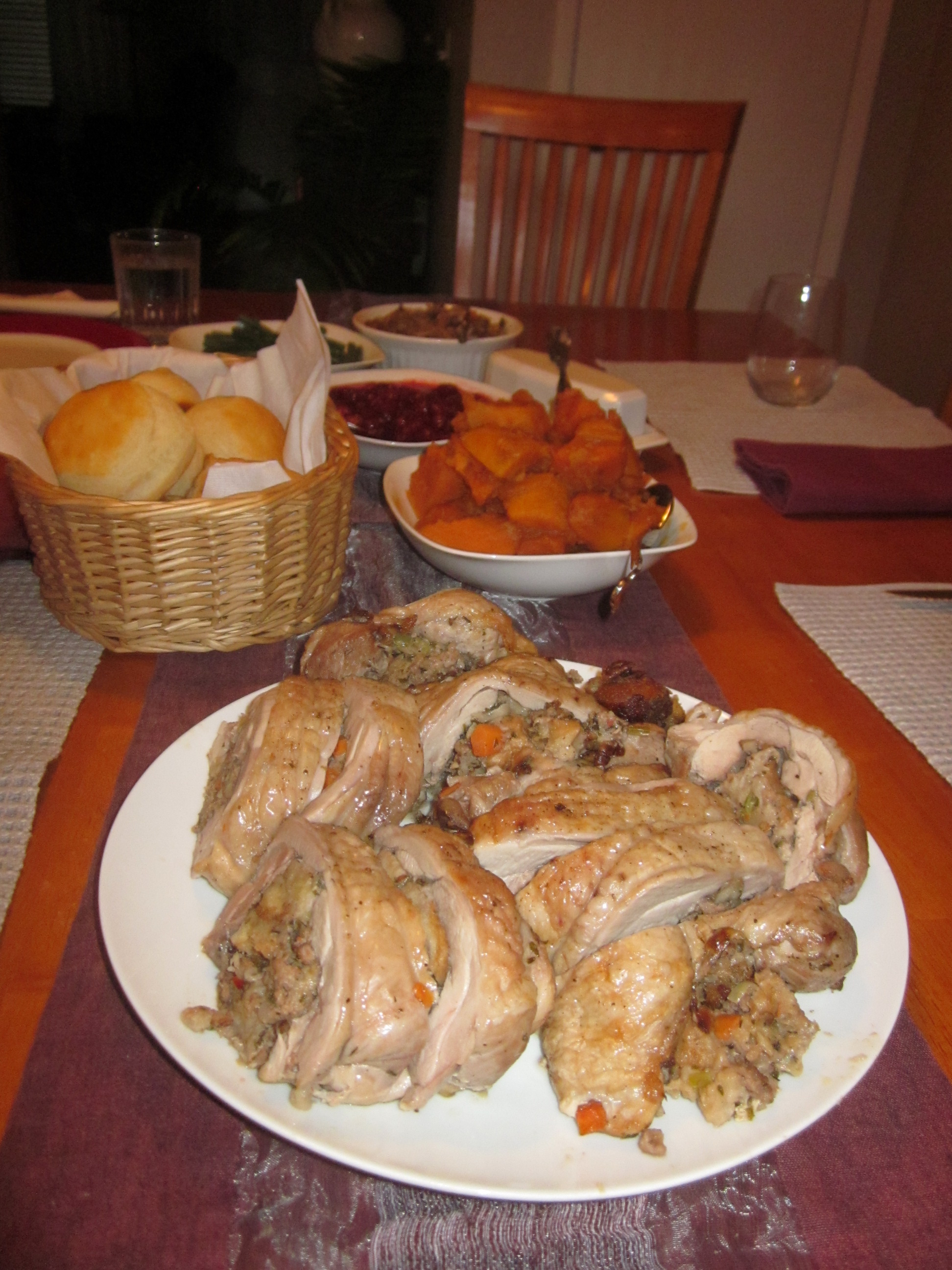 Many years ago, I received what I consider to be very good advice. I was talking to my boss. Ted and I had been together for 7 years…it was the anniversary of our first date, which we had always celebrated. But now we were married…so should we still celebrate our first date? So I mentioned to my boss that we had always celebrated our date-a-versary, but it felt strange now that we were married. He said something like, "Life can be hard, and sometimes is very difficult. We should celebrate life's joys whenever we can." I liked that advise. I still like that advise. Life is indeed sometimes very difficult. It can throw things at you that are not fair. Life is also, at the same time, wonderful and full of many happy times and moments, and these should be celebrated.
In the spirit of celebrating the joys in life, we celebrate Canadian Thanksgiving. Ted was born in Ontario, and his family moved to our little city when he was 1, maybe 18 months. According to Canadian Law, he is a citizen, even though he hasn't lived there in many a decade, and relinquished his citizenship as a child.
In years past, I've tried making several different recipes for roast turkey breast. They were all good, but somehow, seemed just a bit dry. This year, Ted mentioned that he actually prefers dark meat, which somehow I never knew before. So I did a search, and found this recipe for stuffed turkey legs. I went to the store, where they had turkey thighs and drumsticks, but only separately, not still connected. So I bought the thighs, which the butcher said would be much better than the drumsticks. Then there's the sausage. We don't have boudin sausage around here (I think it's a Louisiana thing), and the butcher at the grocery store didn't know which of what they have might be the same. I decided to use calabrese sausage, based on the color, which was closer to white than the red of the other sausages in the case. I had read that some boudin sausage is white. Also, the butcher said he thought it was the best tasting sausage they sold, which reaffirmed my decision.
Confession, I've never made homemade stuffing before. There are many restrictions in the family (some vegetarian, some who don't eat pork), which means no sausage, no bacon, etc. So we generally go with something similar to Stove Top, which is actually pretty good, though perhaps sometimes a little gloppy. This stuffing, however, is not gloppy, and is full of flavor and really delicious.
Boudin Stuffed Turkey Leg
Makes 6 to 8 servings

2 boneless turkey legs
10 feet butcher's twine

Boudin Stuffing

2 tablespoons cooking oil
1 cup yellow onion, cut in small dice
½ cup celery, cut in small dice
½ cup carrots. cut in small dice
½ cup chopped toasted pecans (or candied pecans)
1 clove garlic, minced
1 tablespoon dried oregano
1 tablespoon dried thyme
1 pound spicy boudin, removed from casing
1 cup chicken stock
6 slices white sandwich bread, diced
Salt and pepper to taste

Preheat a large saucepan over medium heat with the cooking oil. Add vegetables, pecans, garlic and dry spices in the cooking oil, and cook until vegetables are just translucent. Add boudin and stir. Once boudin begins to stick to the pan, add chicken stock and bring to a simmer.When stock simmers, adjust seasoning and add diced bread. Allow to cool. (At this point, mixture can be stored up to 4 days.)

To stuff the legs: Lay the de-boned leg quarters out flat, skin side down. Divide the boudin stuffing into two portions, and spread the portions evenly onto each leg. Roll the meat up jelly-roll style, keeping as much stuffing inside as possible.

Cut the butchers twine into 12-inch pieces. Tie the pieces of twine around the stuffed turkey legs every few inches to keep them rolled tight. Once the turkey legs have been tied, season them with salt and coarse black pepper.

Roast the legs in a pre-heated 375-degree oven for approximately 40 minutes or until the internal temperature reaches 165 degrees. Allow the meat to rest for 10 minutes before slicing and serving.
The result? I think this is the best Canadian Thanksgiving yet. The sausage was delicious, the turkey moist and flavorful. Really, really good.