I'm a bit behind here.  Somehow I think when I have time off from work, I'll have more time to write here, and to read your blogs as well.  Instead, I find myself doing other things, away from the computer.  I guess that's a good thing, living my life and all, but still, I'm thinking of spending a bit of time this morning poking around blogs.  But first, I'll fill you in on what I've been up to.
As you know, we went to Portland last weekend for my father's birthday party.  We flew up on Friday and home on Tuesday, and we saw family every day while we were there, which was really, really nice.  Friday we went to Dad and (my step-mom) Julie's house for dinner, along with Julie's (twin) sisters and their spouses.  (See, Julie and I are both named Julie, and we both have sisters who are twins…it can get a bit confusing, esp when my sister Maya and my daughter Maya are there as well….we figure it out.)  Julie made a very yummy dinner, including a quinoa with oranges and raisins that was fabulous.  She gave me the recipe, so once I make it here, I'll share with you.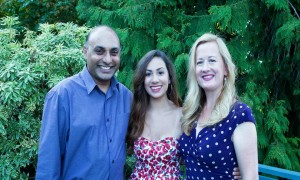 Here we are all dressed up for the party
Saturday was the party, which turned out to be really nice. About 50 people, all there to celebrate my Dad and his wonderfulness. There was delicious food and lovely conversation. Then people started making speeches about my dad's political past, his work over the last 45 years for the counter culture, going on freedom marches, avoiding the draft, running alternative newspapers, on and on and on. My dad said, "they make me out to be this great guy, but I didn't do these things for a cause…I was having adventures!" Which is true, and he had many adventures indeed, all while supporting the causes that he cares for most. My sister, Maya, is planning to do some interviews with my dad, so we can get some of these things written down.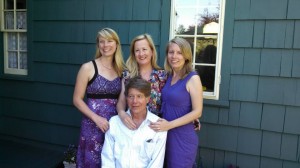 Dad and his Girls
Sunday was another party, this one just for family. We ate delicious leftovers from the big party, relaxed, and enjoyed family stories. Monday, Ted and Maya went to a movie, and my dad and I went to see my Grandma in the care facility. She didn't speak, I don't think she had any idea who I was, but she was VERY glad to see us, enjoyed it when I hugged her, and really enjoyed sitting in the sunshine and eating chocolates that we brought. Monday evening was a dinner party at my sister Maya's house, which was Jambalaya. Maya's wonderful husband, Herb, is from New Orleans, and he cooked us a really delicious meal.
Maya and I took long walks in Forest Park. I had one on one time (no kids, rare when they're young) with my sister Melissa, part of which was a quick trip to Powells Books, where I picked up Little Bee, and almost bought Zealot but didn't because it was expensive. Then Ted and Maya went to Powells a day or two later, and he bought Zealot with a gift card he had in his wallet. Yay! Rare to find a book that all three of us are interested in reading. Nice.
While there, we were staying at Maya and Melissa's mom and step-dad's house, which is a HUGE (maybe 4,000 square feet) modern townhome. It was very luxurious, and lovely and relaxing as well. It was located close to 23rd Street, which is a trendy little neighborhood. We had dinner Sunday night at a place I wanted to try, Southland Whiskey Kitchen. Ted loves whiskey, and I love fried chicken, so it seemed like a good place to try. The fried chicken was delicious, as was the biscuit. The horseradish slaw was a bit too horseradishy for me, but if you like that kind of thing, I'm sure it would be great. Their whiskey list was extensive, and Ted tried a couple of local Portland bourbons, which he really enjoyed. If we lived closer, I'd want to give their smoked meats a try…esp some baby back ribs. Yum.
Tuesday was home again, which can feel a little jarring after the relaxation of being on vacation. We did have a good nights sleep in our own bed, which was nice after trying to adjust (unsuccessfully) to their Tempurpedic bed. Wednesday I ran a bunch of errands, registered Maya for school (expensive for Senior year), that kind of thing. Thursday I gave blood and took a nap.
All in all it's been a nice 10 days off from work. I'll be ready to start up again on Monday, I guess. For now, two more days of weekend to enjoy, starting with reading a few blogs before I get started…