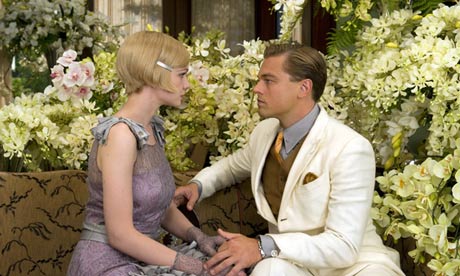 For Mother's Day, instead of sending Maya off to an AP U.S. History study group with her friends, we went to see 'The Great Gatsby' and then out for dinner.
We both really liked Gatsby a lot…especially Leonardo DiCaprio, whom I think was a far better, more vulnerable, weaker Gatsby than Robert Redford. And at heart, Gatsby is a weak man surrounded by tough guys, trying to finally grasp his unattainable dream. Carey Mulligan does a fine job as Daisy Buchanan, though she didn't seem quite sparkly and shimmery enough to me. Daisy should be Champagne bubbles tickling your nose, and Mulligan is more like a serious Chardonnay. I liked Tobey Maguire as Nick Carraway….he seemed enthralled (actually, perhaps a little bit in love) with Gatsby, willing to overlook his obvious flaws in his admiration of Gatsby's eternal hope and optimism. Joel Edgerton was perfect as Tom Buchanan, quite the bully, the snob, wanting to have it all his way.
But the stars of The Great Gatsby are the language, the spectacular visuals, and the music. First and foremost is the language, which is difficult to translate into film. This problem is solved by jumping the film forward a few years, and having Nick write his issues down for his therapist. Because Nick is using the written word, we get some of the spectacular wording and phrases from Fitzgerald's novel. Some of the very best parts.
The visuals were indeed spectacular, flashy and grand, just like the 20s. They were perfect. I'll admit we didn't see it in 3D. I have no use for 3D, and can't say honestly that it has ever improved a movie for me. It always stands out and makes me notice the 3D (even Avatar), rather than staying in the story. The music had me a little nervous going in, but it was actually perfect. Gatsby is a very modern story, very aware of the excess and craziness of the era. Bringing some of today into the film, through the music, seemed like a really good idea to me.
I really, really recommend it. If you're at all interested, go for it. Maybe try to get there a little earlier, so you don't have to sit in the front row. It's popular.