OK, first things first. My celebrity crush is Curtis Stone. We went to San Francisco to have him sign a copy of his cookbook back in '07, and he was utterly charming. And now he's engaged to, and has an adorable baby with, Lindsey Price, who played Janet on Beverly Hills 90210 back in the day. It's like two parts of my world coming together in one beautiful place, and I'll confess…when I picture Curtis and Lindsey barbequing in the back yard, they're in the Walsh house. So what?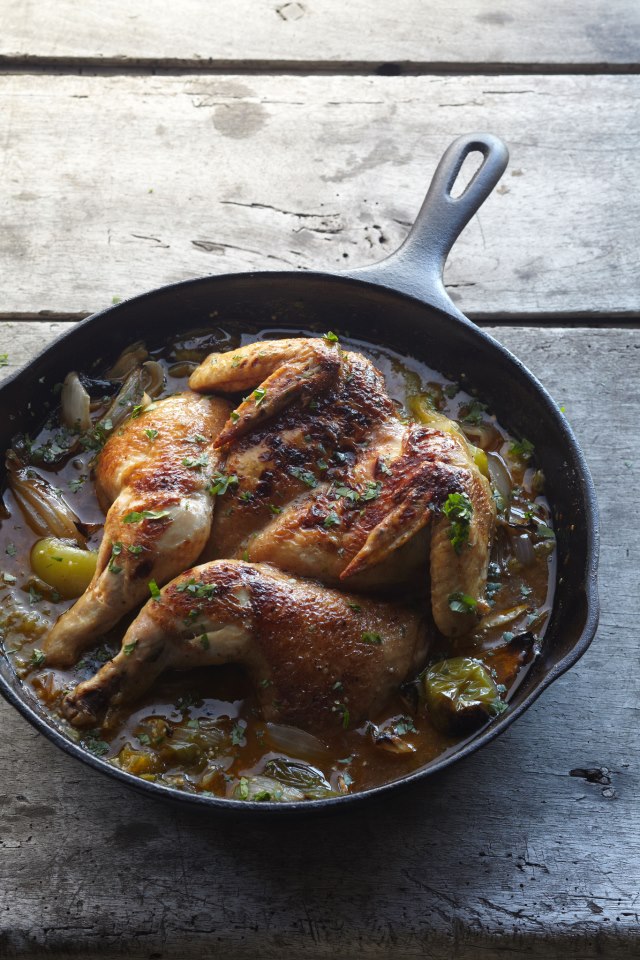 Anyway, I'm a fan of Curtis on Facebook, and sometimes he puts delicious pictures up, of recipes from his new cookbook. I haven't bought the new cookbook yet, though I did buy the digital version of one week's worth of recipes, so I'm not a total jerk. When he posted this picture of Roasted Butterflied Chicken and Tomatillos on Facebook, what could I do but google it? It's not my fault that Amazon will show you every darned page of a book, or that I have snagit on my computer, so I could just snap pictures of the recipe, paste them into a word document, and print it up. You know what? I'm SO glad I did. This recipe is a winner, and probably worth the price of a cookbook, all on its own. The chicken is both moist and really flavorful. We had it with tortillas, though I didn't shred the chicken wings or drumsticks, and when Ted ate those, he said they were wonderful on their own. I highly recommend these tortillas, if you can get them. I buy the green chili corn tortilla version, and they're kick ass.
Roasted Butterflied Chicken and Tomatillos
Ingredients

One 4-pound chicken
2 teaspoons sweet paprika
1 teaspoon ground cumin
Kosher salt and freshly ground black pepper
1 1/2 pounds tomatillos, husked, rinsed, and cut in half
1 white onion, halved and cut into 1/2 inch thick wedges
3 garlic cloves, finely chopped
1 jalapeno pepper, seeded and finely chopped
1/4 cup coarsely chopped fresh cilantro
1 lime, cut into wedges, for serving
8 whole wheat flour or corn tortillas, warmed, for serving

Directions

Preheat onion to 400 degrees F.
Using poultry shears, split the chicken open by cutting down one side of the backbone, then cut out and remove the backbone. Place the chicken skin side up on a chopping board. Put your hand on the breastbone and press hard to flatten the chicken. (J's note: my favorite grocery store has a butcher, who will cut your chicken in half and remove the backbone for you if you'd like, so I just have them do this for me.)
Heat a very large cast-iron or other heavy ovenproof skillet over medium-high heat. Meanwhile, in a small bowl, mix 2 tablespoons of the olive oil with the paprika, cumin, 1 teaspoon salt, and 1 teaspoon pepper. Rub the mixture all over the chicken. Place the chicken skin side down in the hot skillet and cook for about 4 minutes, or just until the skin side is golden brown. Transfer the chicken to a large plate. Set the skillet aside.
In a large bowl, toss the tomatillos, onions, garlic, and jalapenos with the remaining 2 tablespoons olive oil. Season with salt and pepper. Arrange half of the tomatillo mixture in the skillet and nestle the chicken on top, skin side up. Scatter the remaining tomatillo mixture around the chicken.
Roast for 45 minutes, or until the chicken shows no sign of pink when pierced in the thickest part with the tip of a small sharp knife and the tomatillos are falling apart into the sauce. Remove from the oven and let stand for 10 minutes.
Season the tomatillo salsa to taste with salt. Sprinkle the cilantro over the chicken and salsa and serve with the lime wedges and tortillas.
We added sour cream and guacamole to our little chicken tacos. YUM, they were great. This recipe is definitely a keeper.