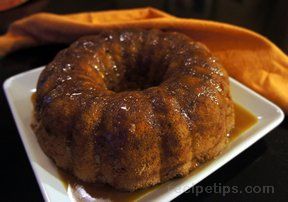 Totally cheating here, because this is a different cake. But I like the fact that it's in a bundt cake shape, and I think that would be a pretty presentation for this cake as well.  Ted made it in a square pan, as requested by the recipe.  Maybe the cake is too dense and moist for a bundt cake pan, I don't know.  I found the photo here.
I mentioned the lovely Apple Cake that Ted made for Valentine's Day, and the world sat up and took notice.   Since you've behaved, I'm rewarding you by posting the recipe here.  Ted found it here.  The author of the blog says she adapted the recipe from the original.  I googled 'Hood River Fresh Apple Cake', and found the original.  The differences are in the spices used, and the original calls for shortening instead of butter. The notes are from the page where Ted found the recipe. We halved the recipe, as she suggests. I'm planning to bring this to Thanksgiving dinner this year.
Hood River Fresh Apple Cake

Adapted from "The Four-Star American Community Cookbook," edited by Anne Patterson Dee. (I usually halve this and bake it in a 9-inch-square pan. The original recipe calls for only cinnamon, but I'm a more-is-better spicer.)

Ingredients

Cake

2 cups sugar
1 cup soft butter
2 eggs
2 cups flour
2 teaspoons baking soda
1 1/2 teaspoons cinnamon
1 teaspoon ginger
1 teaspoon ground allspice
1 teaspoon kosher salt
4 cups chopped cooking apples*
1 cup chopped pecans or walnuts

Sauce:

1/2 cup packed brown sugar
1/2 cup sugar
1/2 cup heavy cream
1/2 cup butter
1/2 teaspoon vanilla

Directions

Heat the oven to 350 degrees. Cream sugar, butter and egg. Whisk together flour, baking soda, spices and salt and blend in. Add apples and nuts and mix well. Scrape into buttered 9-inch-square pan and bake 40 to 45 minutes. Just before serving, combine all sauce ingredients but vanilla in a small saucepan. Bring to a boil and add vanilla. Pour over individual squares of cake. Serves 10 to 12.
This was really delicious. Moist, sweet, and yummy.
* We used the 2-1-1 tart to sweet ratio that we used in the applesauce for Hanukkah. Two tart apples, and two different types of sweet apples. Don't know if that was needed in this recipe or not, but the cake was delicious, so why not?