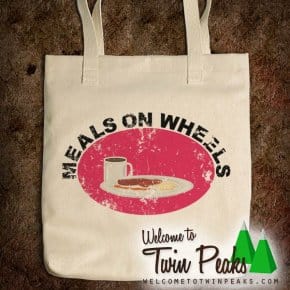 I'm a volunteer driver for our local Meals on Wheels, which means that one day a week, I take a long lunch (thanks to my kind company, that agree that I'm adult and if I can get my work done, they don't mind me doing this…in fact, they encourage it), drive to the Senior Center, pick up 16 meals, and drive them to senior citizens who are on fixed budgets and are unable to get out and shop for themselves, or are unable to cook, or both.  They are in varying degrees of need, but I don't think anyone goes on Meals-on-Wheels unless they are needing some assistance.
I started volunteering for MoW a few years ago, when I was unemployed for a few months.  I was motivated by my father, who has been delivering for MoW in Portland for several decades now.  I was surprised at how much I enjoy it…it's lovely to get out of my home office and see people, people who have no real demands of me, other than to be friendly and bring a meal, and sometimes change a light bulb or assist with a hearing aid.  I like driving, I like listening to the radio in my car, I like the feeling I get knowing that I've helped someone in a very real way.
Well, today I want to quit.  I just do.  The demand for services has increased so much, and their waiting lists are so long, that they are having to tighten up their rules for who is eligible.   If you have someone who could shop for you, off you go.  If you have a car and could possibly get yourself to the grocery store, off you go.  There are just too many people on the waiting list who are home bound and in greater need of the services.  It's triage.  It's not that the people that they're bumping don't need their services, it's just that there are too many people on the waiting list who need it more.
Today's delivery brought me to Dana's house.  Dana who always has a kind word, asks after my family, remembers when I tell her that I'm going on vacation and asks how it was.  Who gives me a box of Chocolates at Christmas, and a plant for my yard in the spring.  Who gave me a Christmas Card that said, "Thank you for helping me to stay in my home."  She's off the route, because she has a car.  A car which she shouldn't drive often, because she's old and her reflexes are not what they once were.  So now she is going to have to figure out how to cope with the grocery store, with the impatient people who don't want to be stuck behind an old woman who can't find the canned tomatoes.  She's going to have to come up with the money to pay for groceries, while before she received her meal from Meals on Wheels.  I had an extra meal that another client didn't want, so I brought it to her, and asked her if she had been dropped.  She started crying, because she has, and she doesn't know what she's going to do.  She understands that there are those out there who need this service more than she does.  But that doesn't mean that she doesn't still need it.  I hope that she and her neighbor, who was also dropped from my route, might find a way to make it over to the senior center, where they serve hot meals Monday – Friday, and you don't have to pay if you cannot afford it.
I came home, disheartened and sad, and I was telling Ted about it, and I started thinking about how much the need for services like this is going to increase, as more baby boomers begin to retire.  Some of the people on my route are in their 80s and 90s, but some are younger, in their late 60s or 70s.  Life doesn't deal us all a fair set of cards, and some people are forced out of the workplace earlier than others…by health reasons, by the economy, whatever.  Some people have families near by who are able to help them, but others do not.  The demand is going to continue to increase for services for the elderly…and where is the money going to come from to support them?  I'm sure I don't know.
I won't quit.  I will make new friends on the route as they add new people.  I will continue to stop and check in on Dana sometimes.  There will be good days doing my delivery route again.  But today just wasn't one of them.
UPDATED 11/15/12 to say that I had an extra meal again today, and went to drop it at Dana's house. I also gave her a flyer for the Senior Center, and talked to her about going to lunch there, if she's able to drive. Then when I got home, I looked up her neighbor Sandy (the one who was also dropped from the program), then called Dana and gave her Sandy's contact information. Hopefully, they can go together and get lunch sometimes.