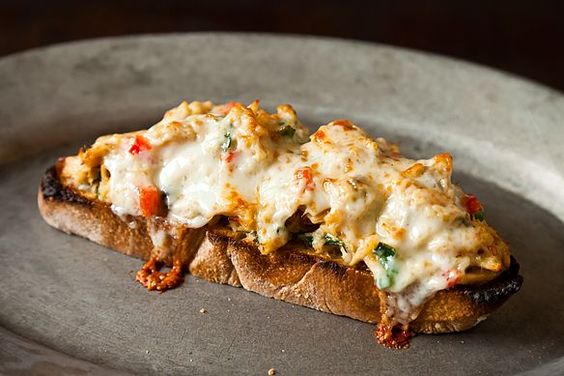 I saw this recipe on Yahoo Shine a few weeks ago, and I was compelled to try it. (They got the recipe here, which is also where I got the drool worthy photo.)  It just seemed like the perfect meal for a hot summer day, when you don't want anything too heavy, and you don't want to heat up your house. You do use the broiler, but for such a short time, it doesn't heat the kitchen up very much.
Provençal Tuna Melt
Serves 2
1 6-ounce can tuna packed in olive oil*
1/4 of a red bell pepper, 1/4″ dice
Green parts of 2 scallions, 1/4″ dice
2 teaspoons capers, drained, roughly chopped
1 teaspoon fresh thyme, minced
2 tablespoons mayo (barely…just use enough to bind the tuna mixture together)
Juice of 1/2 lemon
Pinch red pepper flakes
4 slices good bread; I used Acme, Sweet Batard
Olive oil
Slices of soft cheese**
Combine all ingredients from tuna to red pepper flakes. Mix gently. Taste for seasoning, and add salt and pepper, if desired.
Slice your bread, then brush both sides with olive oil. Place on a baking sheet under the broiler for 30 seconds or so, until the bread is slightly toasted. Remove from the oven, turn the bread over, and top with tuna mixture and cheese. Place back under the broiler and cook until the cheese is melted to your liking. I put the sandwiches on the middle rack of the oven, rather than right under the broiler, which allowed the whole sandwich to heat more uniformly and get extra delicious.
Alternately, you can toast another piece of bread under the broiler, and put the tuna between the two slices, and eat as a regular sandwich. I liked it better open faced, to eat with a knife and fork.
* If you can find imported tuna in olive oil, this is the recipe for it. I haven't found a domestic version that has the depth of flavor that the tuna from Italy and Portugal has. My supermarket (sounds like I own it) has As do Mar on sale right now. Really, really good.  Don't pour all of the olive oil from the can out.  Use maybe 1/2 for your tuna salad.
**The recipe calls for Asiago Pressato, which is a a young, soft Asiago, as opposed to the crumbly type you might put on pasta, and I couldn't find it. The guy at our local Italian Deli said it's a newer cheese, and hasn't really caught on yet. When it does, it will be more available. I used smoked Fontina.
This was a hit, both the first time, and last night when we had it again. Quick and easy, delicious and nutritious, and perfect for a hot summer night.