Nothing earth shattering today, so we'll dive on in, OK?  Just a bunch of randomness that's been swimming through my brain a bit.
We're trying Genevieve on a new drug.  She had stopped eating, which had us really concerned.  Or, to be more accurate, her eating was very sporadic and unpredictable.  She didn't want her kibble, so I started making her some homemade food.  She liked that for awhile, but then seemed to tire of it.  We'd try to hand feed her, and she'd just turn her head away.  She was always happy to eat dog treats, cheerios with milk, that kind of thing, but not regular dog food.  She has been pacing a lot lately, and gets stuck in corners, circles a LOT before laying down, and has been kind of distant and not as engaged with us.  And she's losing her beautiful coat.  So we took her to the vet, fearing the worst.  I have a pretty flexible schedule, and the vet is very close to home, so usually I take her on my own.  This time Ted and Maya wanted to be there, just in case the vet said she was in pain and needed to be put down.  They wanted to say their goodbyes.  The good news is that she doesn't seem to be uncomfortable or suffering.  The vet said she has a form of canine dementia, and there's a drug that's proven pretty helpful for that.  It takes about 30 days to really get in their system, and we're 1 week in, so it's too soon to tell if it's helping or not.  We gave up on the homemade food, though, and started giving her 1/2 kibble mixed with canned dog food, which she LOVES.  So that's a relief.  Hopefully before she tires of it, the drugs will have worked to stimulate her appetite and all will be well again.
Speaking of food, this coming Tuesday is the second annual Bay Area Dine Out for Meals on Wheels, which is a fundraiser where you go to a participating restaurant on a certain day, have a delicious meal, and they give a portion of their proceeds to Meals on Wheels.  Well, I'm a  huge fan of the organization, and I deliver meals for them once a week, so I've been planning on going.  Then last week, I saw an episode of Check Please Bay Area, where they talked up a restaurant in a neighboring town, The Peasant and the Pear.  The food looked really good to me, and as I've complained before about restaurants on our side of the tunnel, and how many of them are just so-so, I was eager to try it.
Next thing you know, The Peasant and the Pear showed up on the list of restaurants participating in Dine Out for Meals on Wheels, and suddenly it felt like kismit.  So we're going to go give it a try.  I'm thinking fondue and salad, a glass of wine, and a pear tart for dessert.  YUM.
Speaking of Meals on Wheels, this last week when I was delivering food to a couple on my route, their son came out to get the food.  He's a nice enough guy, and the parents are very friendly as well.  I asked him how he's doing, and he said, "Tired.  Tired of Living."  Wow.  I patted him on the shoulder and told him to hang in there, it will surely get better.  Then he said, "Well, I'm an addict, and the whole thing is a cycle.  I use for awhile, and it's horrible, and I get tired of living.  Then I muster the strength to quit, and I'm off for years at a time.  Last time it was 15 years.  Then I start up again."  I said, "Wow, that's a terrible burden to have to carry."  And he said, "Yes, but it will be a lighter burden once I stop using.  I just have to get there."  I've thought this many times in my life, and more often in the last few years stopping at people's houses to deliver them meals…it's amazing the different lives people lead behind closed doors, isn't it?  And amazing that he was so burdened that he felt like he needed to tell SOMEONE what he was going through, even a complete stranger.  Poor man.  I wish him success, that he can quit for good this time, and find peace in his heart.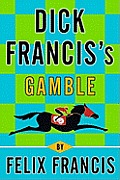 I recently read a new mystery, Gamble, by Felix Francis.  Felix Francis is the son of the late Dick Francis, the former-jockey-turned-mystery-writer, who managed to keep racing and horses as a theme in all of his books.  Dick and his wife had a lovely life of it, traveling the world together researching his books, and after she passed away, Felix stepped in and helped his father, first with research, and then with writing.  They wrote a few books together, and now that Dick has passed away, this is the first book to be authored solely by Felix, though confusingly enough, the title seems to be "Dick Francis's Gamble", which made me wonder if Dick were somehow a character in the book.  He's not, so I guess it's just a way to make sure people know of the connection.  I have to say, he did a very good job, and the transition to writing on his own was fairly seamless.  Yes, the voice is different, as it should be, from his father's.  But it was a fun, fast read, and I was HOOKED, as always with a good Francis mystery.  I'll be looking forward to more from him in the future.  One bonus is that my aunt is also hooked, and she pays attention and puts the book on hold at the library.  She then reads it so quickly, there's plenty of time for me to read it before it's due.  So I don't have to do anything but live my life, secure that Auntie will get the next book to me when it's ready.
Speaking of family, I'm going to Rutherford tomorrow evening to a fancy wine and appetizer reception with my beloved Mother In Law (heretofore shortened to MIL).  Really kids, remember that when you marry, you marry the whole family, so be careful.  Happily, I married very well, and I love Ted's family and feel very close to them.  So my MIL invited me to this lovely evening, and I'm looking forward to getting a bit dressed up, having a nice drive up through wine country together, and enjoying the winery.  It's supposed to be very pretty, and it's my MIL's favorite.


Lastly, I know this makes me an old fogey, but I am not happy about the current trends in shoes.  I have a cute pair of short boots that I like to wear with nice slacks.  But they are dying, and I need a new pair.  So I went to two stores today, to try to find a replacement pair in time for the semi-fancy reception tomorrow, with absolutely no luck.  I'd see a pair that I thought was cute, but then I got close, and they have a horrid wedge heel.  Or a super skinny spiky heel that will kill me within 20 minutes.  Or that platform thing on the bottom of the shoe, combined with the heel.  I know, Lady Ga Ga and all of the young hip people in the know LOVE the look.  Some of my most stylish friends LOVE the look.  Me?  I think it makes your feet look heavy and gloppy, and I'm not going to do it.  So I'm either going to have to go look for a new pair at different stores tomorrow, or wear my old pair, and hope no one notices that they've seen far better days.  At least it won't rain, because they leak.