This weekend, in addition to attending Maya's swim meet one day, and working the meet the following day, we found time to celebrate two birthdays, those of Ted's mom and Ted's uncle.  Our family get-togethers are generally pot-luck, with the host telling everyone what to bring, so that the menu has some sort of cohesion, and we don't end up with 5 plates of chicken and nothing else.  I was asked to bring corn and bruschetta.  Yay, bruschetta!  I love my standard, go to bruschetta recipe, which I have posted about before, but I also like to try something new from time to time.  Happily enough, a recent Bon Appetit magazine has recipes for quite a few delicious bruschettas, and I decided to add a couple of those to my repertoire.  The results?  They were all delicious!   The video is of Ted's lovely cousin, Sewdaye, since I was in that hot and sweaty zone of cooking and didn't feel 'camera ready'.  And while Ted did graciously take some photos of the finished product, I didn't think of it in time, and the plates had been messed up by people eating the yummy goodness.  I know, rude, right?  Plus, the professional ones are SO gorgeous. So you'll get theirs, along with one of ours. So, here are the recipes that I made.
First is a bruschetta that had my mouth watering just thinking about it, made with fresh peaches and prosciutto. Yum.


(photo and recipe, here)
Peach, Prosciutto & Ricotta Crostini
Ingredients

12 slices of ciabatta bread
1 ripe peach
12 tablespoons fresh ricotta (preferably sheep's milk)
Freshly ground black pepper
4 thin slices prosciutto
Honey

Preparation

Grill bread slices.
Halve, pit, and thinly slice peach.
Spoon about 1 tablespoon ricotta onto each toast and sprinkle with ground pepper. Tear prosciutto into feathery pieces and drape a few slices over ricotta on each. Drizzle each with honey and top with 2 peach slices.
This was delicious! The whole point of the recipes was to grill your bread, but I didn't want to fuss with that, so I broiled them. I know they'd be awesome grilled, if you're so inclined. The tip to making it delicious was to go heavy on the prosciutto and light on the honey. Otherwise the sweet overpowers the salty, and you don't get the right balance. Perfect this time of year, when stone fruits are so luscious.
Next was one that I had to try, because it looked so bright and lovely, and I love the mixture of peas and mint together.


(photo and recipe, here)
Peas, Mint & Parmesan Crostini
Ingredients

12 slices of baguette bread
1/2 garlic clove
1 cup fresh or frozen peas, thawed
Kosher salt
2 tablespoons extra-virgin olive oil
Shaved Parmesan
Torn mint
A few drops of balsamic vinegar

Preparation

Grill 12 slices bread and rub with garlic clove.
Blanch peas in a large saucepan of boiling salted water until just tender, about 2 minutes for fresh peas and 1 minute for frozen.
Drain peas; transfer to a bowl. Season with kosher salt and extra-virgin olive oil and mash with the back of a fork.
Spread about 1 tablespoon mixture over each toast. Garnish with shaved Parmesan, torn mint, and a few drops of balsamic vinegar.
I liked this one a lot. Really light, really delicious. The Parmesan and the balsamic vinegar really made the dish, too. This is one time to get the good stuff if you can, because you really taste it.
Last, what we call old faithful. It's my favorite recipe for a basic tomato & basil brushetta. We're having the leftover tomato mixture spooned over chicken for dinner tonight, along with the leftover peas, which I'll heat up and dress with a little bit of cheese, though I haven't decided yet about whether to include the balsamic or not with the peas. Recipe found in one of my favorite cookbooks, "The New Basics Cookbook"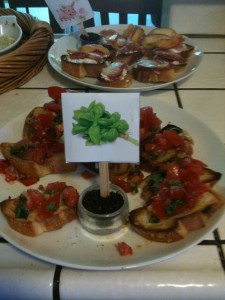 (like the little signs? There are those in the family who shun pork products, so I wanted to make sure they didn't accidentally ingest any, and this was my way of warning them, without having to hover and scream, 'PIG!', which might, after all, be misinterpreted. Once I had decided on the pig sign, I felt obligated/inspired to create signs for the other crostini as well.)
Bruschetta
Ingredients

12 to 14 fresh ripe plum tomatoes (about 1 3/4 pounds)
2 tablespoons minced garlic
2 tablespoons minced shallots
1 cup fresh basil leaves
1 teaspoon fresh lemon juice
Salt and coarsely ground black pepper, to taste
1/3 cup plus 1/4 cup extra virgin olive oil
3 cloves garlic, slivered
8 thick slices round peasant bread

Preparation

Cut the tomatoes into 1/4-inch dice and place in a bowl. Toss with the minced garlic and shallots.
Chop the basil coarsely and add to the tomatoes, along with the lemon juice, salt and pepper, and 1/3 cup olive oil. Set aside.
Heat the 1/4 cup olive oil in a small skillet. Saute the slivered garlic until golden, 2 to 3 minutes. Discard the garlic and reserve the oil.
Toast the bread and cut each slice in half. Arrange the slices on 8 small plates. Brush the garlic-flavored oil over each slice, spoon the tomato mixture over the bread, and serve immediately. The mixture should be at room temperature.
Yummy! Looking at this, I realize two things…I didn't want to go too crazy with different varieties of bread, so I didn't buy ciabatta for the prosciutto. I just used baguettes, which I bought at our brand new local Panera bread store, which I thought were OK, but not as good as Acme. Next time I might buy just the ciabatta, and cut the slices in half, so as to not fill people up too quickly. Also, I didn't rub the bread with garlic cloves or infuse any oil with a garlic flavor. That would have been a nice touch, but I was a little hot and bothered in the kitchen already.
Much thanks and extra credit goes to Ted, not only for taking the video and the photos (and editing and uploading the video before he left for work today, so I could post…), but also for running out and buying me more tomatoes, when I determined that the ones that I had bought on Thursday (at the Farmers' Market no less) were flavorless. It's been kind of cold and overcast here the past week, so tomatoes aren't at their peak.