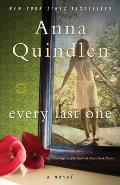 I came across this book in the silliest way. A few months ago, Ted and I had some time to kill at the bookstore downtown while Maya did some cheer thing or another. I had a pile of library books at home to read, so I wasn't really looking for something to buy. I got a little bored and started playing a dumb game with myself. The game was, looking at the bookcases at the bookstore, and seeing if there were any shelves without at least one book I had read before. I was feeling pretty smug and proud of myself, seeing books that I had read on so many shelves. Then I came across the Q & R shelf, and there was nothing. So the next game, of course, was, what on this shelf would I read if I had to pick one out. There was a whole shelve of Ayn Rand, and there's no way I can stomach that. Then I saw a section devoted to Anna Quindlen. That name sounded familiar to me, so I thought, hmmm….maybe. Then I forgot about it.
Several months later, Ted and I were again browsing a (different) bookstore. This time I didn't have any library books waiting at home, so I looked a bit more seriously. I decided on Every Last One, which seems to be her most recent novel.
I love reading, and novels are my favorite genre. I've been surprised by books before, by the level of the writing, or the turn of a phrase. Once in awhile a storyline even surprises me, but usually when that happens, I feel cheated or betrayed, as though the author has been pointing me in one direction, and then pulled the rug out from under me. It feels like they were withholding information on purpose.
Every Last One does not rely on either the expected, or on such a betraying surprise that you feel like you had no chance of knowing what was coming. Instead, you know something's coming, that the story is leading toward a pivotal event. But when it comes, it's not anything that I had expected. I don't want to go too far in describing the story, because I don't want to spoil it for you. I'll give you a very brief synopses, to whet your appetite.
Every Last One centers on the Latham family, specifically Mary Beth, the mother of the family. She is happily married, with three teen-aged children. She has a job as a landscape architect that she really enjoys. Her children are Ruby, Max, and Alex. Ruby suffered last year from a dangerous bout with anorexia, but seems to have come through the worst of it, and Mary Beth and Glen, her husband, are shifting their parental concern toward Max. Max and Alex are twin brothers, finishing up 8th grade, and getting ready for High School. Max has gone from a happy child into a moody one, leaning towards depression. Mary Beth and Glen are trying to figure out how to help him through this troubling time. Alex seems to be healthy and well adjusted so far, as the athletic and popular child in the family. Rounding out the family is Kiernan, a boy of Ruby's age, who went from boy-next-door to Ruby's boyfriend, and seeks solace in the Latham household from his own uninvolved, uncaring household.
"Ruby goes to the door and bends forward to peer out of its panes. She meshes her fingers together behind her back and rocks back and forth. I can tell she wants to put everything right before she flies away, Ruby does. She wants to feel at peace with Kiernan again, to make certain Rachel will not follow her worst impulses, to heal the rift between her brothers. She has given each of the boys a poem for Christmas, and the one for Max begins, "I miss you, mousie. Come back home." Mousie and Bear – that's what she called her brothers when she was very young. When I'd asked why, years ago, she made that exasperated click of the tongue, the one most girls don't learn until adolescence, and said, "Mommy, you know."

I didn't. I don't. She does."
I found this to be a really good read. A page turner, definitely. I think I'll look for more by Anna Quindlen in the future. Maybe even at my local library.