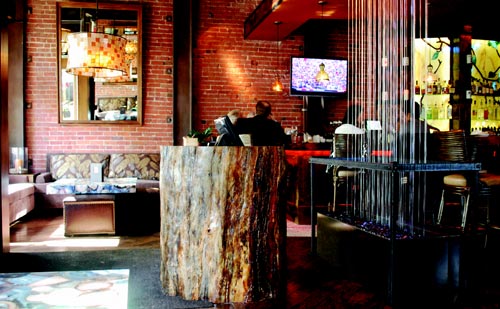 Photo found here
After a morning swim and a hot shower, I was lazing on the bed in my bathrobe, hair in a towel, with my book, trying to decide whether to read or perhaps have a nap, when Ted asked, "Would you like to go to lunch with me today?" "Maybe," I said, thrown off because I was still kinda full from breakfast, and almost too lazy to bother with getting dressed, but as he showered, I thought about it and admitted to myself that the likelihood of my wanting to lie there all day in my robe without lunch was slim, so when he came out I said yes, I would like to have lunch with him, but perhaps not just yet.
I'm very glad that I got my butt up out of bed, because we went to a lovely new restaurant in our little town, Sasa. Sasa is housed in an historic 100-year-old building, which was originally the Walnut Creek Meat Market, and still has a certain butcher house vibe to the architecture, with exposed beams and bricks and doors to the meat lockers still in the wall. It was most recently a crepe restaurant, before morphing into Sasa, an Izakaya style restaurant, where small plates of food accompany a wide range of sake and a full bar. Perfect for a lazy Saturday afternoon, especially for someone who's not terribly hungry after a large breakfast.
I ordered the Gindara Misoyaki which was grilled miso marinated black cod, baby bokchoy, and a seasoned rice ball. YUM. The cod was delicate and flaky, moist and delectable. The flavors were subtle but it was in no way bland. I'm looking forward to going back and ordering it again some time. Ted had the Mini Chicken Teriyaki Burgers and root vegetable chips, which he said was delicious. He also sampled a few different kinds of sake, settling on some kind or another, but I sure wouldn't know which one. I don't really care for sake.
They also have a fairly extensive sushi menu, which I think would make Maya happy. She's a fan. Most of what I saw going to other tables looked to be sushi rolls. From the quality of the food we ate, I'm betting their sushi would be delicious as well.
The dinner menu is different enough that I'd like to go back and try it out, perhaps for the Ahi Parfait, or a roasted lamb chop. I hope it does well, because I really enjoyed our meal there.