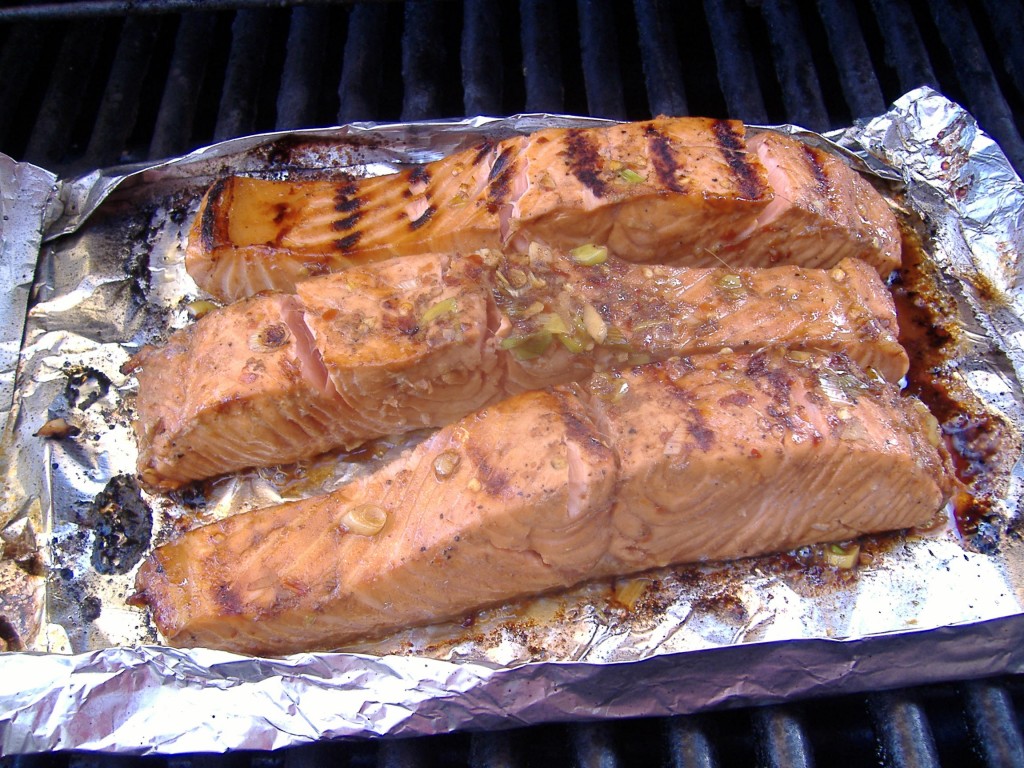 Back when my mom was in the hospital in Anchorage, One day I found myself looking for lunch outside of the hospital, and landed at a TGI Friday's. There's probably nothing wrong with TGI Friday's, but it's not a place that is really on my radar when I think of a place to go. But I had a really yummy dish called Dragonfire Salmon, which I enjoyed with a glass of wine before walking back to the hospital in the balmy February Alaska weather. It was nice.
Enter Facebook, where I 'like' Barbecue & Grilling at About.com, because Ted's cousin writes for them. He posted some grilled salmon recipes, one of which was called 'Firecracker Salmon', which sounded a lot like Dragonfire Salmon to me, so I thought I'd give it a try. The problem with cooking fish on the grill is that it often sticks, unless your grill is pristine, HOT, and oiled. We keep ours clean, but I don't know that I'd call it pristine. Also, salmon is expensive in these parts, so I don't want to risk it sticking to the grill. Enter America's Test Kitchen, which has a different recipe where they grill the fish on top of a tray made out of foil, coated with cooking spray. It worked well with their recipe, so I thought I'd try it for this one.
The result was delicious! Big hit around here. Yes, the salmon was expensive. But not one bite went to waste, so it was worth it. I had thought about making a pineapple salsa to top it with, which is what they did at TGI Friday's, but instead, I took the leftover marinade and put it in a little pan on the stove, boiled it to kill any bacteria, and added about a tablespoon of butter to make it yummier. Really good. I'm thinking this would be delicious with chicken as well, and I expect to be finding out sometime soon.
FIRECRACKER SALMON
Ingredients:

4 6-ounce salmon steaks or fillets
1/4 cup peanut oil
2 tablespoon soy sauce
2 tablespoon balsamic vinegar
2 tablespoon chopped green onions
2 teaspoons brown sugar
2 teaspoons red pepper flakes
1 clove garlic, minced
3/4 teaspoon grated ginger
1/2 teaspoon sesame oil
salt and pepper to taste

Preparation:
Combine all ingredients except the salmon. Place salmon in a large resealable bag (or two). Pour marinade mixture over top. Force all the air from the bag and seal. Place in the refrigerator and marinate for 1 to 2 hours. Preheat grill. Remove fish from bag and place on a hot grill*. Brush with some of the marinade and discard the rest**. Cook over a high heat for about 4 to 5 minutes per side or until done. Time might vary because of the thickness of the fish. When salmon flakes easily an is a consistent color and texture through the middle remove from grill and serve.
* This is where I made a foil tray, coated it with cooking spray, and used that to cook the salmon. As you can see in the picture, the grill marks come through the foil perfectly.
** Rather than discarding the rest of the marinade, I cooked it on the stove, and added some butter. Really good sauce for the salmon.