We pay way too much for cable around here.  The thing that keeps me from cutting back and giving most of it up to bring our payments down is On Demand.  We don't have a DVR, so On Demand and the Netflix feature on our XBox Live are the closest we can get.  One thing I like to watch on On Demand is the cooking/food shows on our local PBS stations, including Jacques and Julia.  I liked this show a lot when it was originally on, and I have the cookbook.  Even though I have all of the recipes, it's fun to see how they come together on TV vs. the cookbook.
A few weeks ago, I saw an episode where they prepared salmon in several ways, with several sauces and side dishes.  I took it as my inspiration and made a lovely dinner that combined our personal favorites from what I saw.  I took the general method for the salmon, combined it with Julia's sauce, and then added the side dishes.  Here they are from the book, then I'll tell you what I changed.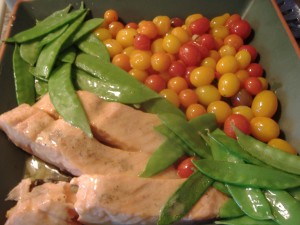 Jacques's Salmon Fillet Sauteed on Its Skin
serves one

Ingredients
One 6 to 8 ounce salmon fillet, skin on, scaled
1/8 tsp salt or more
2 tsp unsalted butter
1/4 cup (loosely packed) very thin slivers of onion, about an inch long
1 to 2 tsp capers, drained
2 tsp lemon juice
1 tsp coarsely chopped flat-leaf-parsley, for garnish

Special equipment
An 8 or 9 inch non-stick frying pan or saute pan with a tight-fitting cover

Set the pan over high heat for a minute, until quite hot.  Season both sides of the fillet with the salt and lay it skin side down in the dry pan.  The skin will shrink on contact with the heat.

Cover the pan and cook for 5 to 7 minutes at medium-high heat, depending on the thickness of the fillet.  Test for doneness by piercing the top with a sharp knife: the outside will flake but the center should still be rare and slightly translucent; the skin will be very crisp.  Cook longer for a better-done fillet.

With a long spatula, lift the fillet and flip it onto a dinner plate, with the cooked skin on top.  Wipe out the pan with paper towels to remove the fat released by the salmon, and add the butter.  As it melts, saute the onion slivers for 1/2 minute or so.  Add the capers and saute briefly, tossing them with the onions, then swirl in the lemon juice, heating it for just a few seconds.  Pour the sizzling garnish over the fillet, sprinkle on the chopped parsley, and serve immediately.
Rather than using the caper/parsley garnish, I decided to use the beurre blanc that Julia made on the episode. My cookbook said it should be thick, sort of like a hollandaise, but on the show, it looked more like melted butter and lemon, which was how mine turned out.  Whatever it's called, however it looked, it was delicious.
Julia's Beurre Blanc
serves two

Ingredients
2 tsp lemon juice
4 or 5 tbs room-temperature butter, in tablespoon-sized pieces
salt and pepper
drops of lemon juice

Set the saucepan over medium heat, add the lemon juice, and pick up a tablespoon-sized lump of butter with a tip of a whisk, and rapidly whip it into the hot liquid. As soon as the butter is nearly absorbed, whisk in 3 more lumps of butter, one at a time, incorporating each completely before adding the next and keeping the liquid at a gentle boil.

When the butter has all been incorporated, taste the sauce and season with salt and pepper and lemon juice to taste. Remove from the heat.
Pour this yummy delicious butter sauce over your salmon. My salmon burned a bit on the skin side, so we just separated the salmon from the skin and discarded it. Not sure I want to eat salmon skin anyway, though I'm sure it's packed full of nutrients. In the episode, they served one of their salmon dishes (though not this one), with sauteed snow peas and small tomatoes. YUM, especially this time of year, so I made them. The peas were fine, but actually, perhaps it's a bit late in summer for them. The tomatoes were excellent. I got them at the farmers' market, though, not the grocery store. That probably helps.
Sauteed Snow Peas
serves two

Ingredients
1 tbs butter or olive oil, or a combination
3 tbs finely chopped onions, shallots, or scallions
1/2 lb snow peas, strings removed
salt and freshly ground black pepper

Heat the butter and/or oil in a frying pan, until the butter foam is subsiding. Add the onions or shallots and cook for about 1/2 minute to soften, then add the peas and toss several minutes, until bright green. Sprinkle with a big pinch of salt and several grinds of pepper and saute for a few seconds more, tossing and tasting, until the peas are cooked through but still slightly crunchy to the bite. Serve immediately.
OK, reading this, I just noticed the onions, shallots, scallions, which I didn't include, and I realized that I didn't remove the strings. They were kind of tough.
Sauteed Small Tomatoes
serves two

Ingredients
1 tbs butter or olive oil, or a combination
About 2 cups cherry or small pear tomatoes (red and yellow if available)
2 large garlic cloves, thinly sliced crosswise
Salt and freshly ground black pepper

Heat the butter and/or oil in a frying pan, over medium-high heat. When the butter foam is subsiding, turn in the tomatoes, toss and roll them in the butter, and saute for about a minute. Then add the garlic slices, season with a big pinch of salt and several grinds of pepper, and cook for 2 to 3 minutes, tossing occasionally, until the tomatoes are warmed through and soft but still holding their shape. Serve at once.
I didn't vary this recipe at all, and it was lovely and a blessing to everyone who loves tomatoes, especially the luscious kind you get at the farmers' market in August and September around here. Hopefully where you live as well.