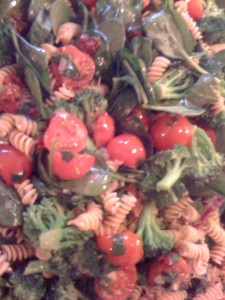 One of my favorite cookbooks is the Greens Cookbook, by Deborah Madison.  Oddly enough, I've never been to Greens Restaurant, though it's local and well regarded.  Anyway, our friends Matt and Casey gave us the Greens Cookbook years ago, and we've enjoyed it like crazy.  A leak from our upstairs bathtub into our kitchen a couple of years ago killed the cookbook (along with several others), but I missed it enough that I went out and got another copy.  Actually, I think I received it as a gift.
One of my favorite recipes from the cookbook is for Cockscombs, Tomatoes, Garlic, and Parsley.  It's simple, it's quick, it's healthy, and it's delicious.  If you want to go non-vegetarian, it's good with some grilled chicken thrown in, though for this recipe, I like it better without.  I remember when we moved from San Francisco to Philadelphia, back in 1994.  We drove across the country on I-80 in about 4 1/2 days, and ate mostly at Denny's and whatever fast food was available at the rest stops along the way.  Subway mostly.  By the time we got to Philly, we were so darned sick of fast food, our dinner at the local Chili's was a very welcome respite.  I will always have a soft spot in my heart for Chili's, because of that meal.  The next night, however, when we were in our new kitchen and could cook for ourselves, I was very happy to make this dish, along with a baguette and some chardonnay.  Yum.
Cockscombs, Tomatoes, Garlic, and Parsley

2 pints (4 cups) cherry tomatoes
2 shallots or a bunch of scallions, finely chopped
4 cloves garlic, finely chopped
6 tablespoons virgin olive oil
1 small bunch Italian parsley, roughly chopped
Salt
Pepper
8 oz cockscombs or other dried pasta shapes
Parmesan

Wash and stem the tomatoes.  Then, using a serrated knife, slice them into halves or quarters.  Put them in a large skillet (without heat) with the shallots or scallions, garlic, olive oil, and parsley.  Season to taste with salt and freshly ground black pepper.

Bring a large pot of water to a boil; add salt and the pasta.  Cook until the pasta is al dente.  About 1 minute before the pasta is finished cooking, warm the tomatoes quickly over medium-high heat.  Don't let them cook, or they will fall apart and the skins will toughen; they just need to be heated.  When the pasta is finished cooking, drain it, add it to the pan, and toss well.  Serve immediately, garnished with the cheese and more pepper.
So, that recipe has been a go-to dish around here for awhile. Fast forward a few years, and Maya and I were having lunch at our local California Pizza Kitchen. We were sitting at the counter, enjoying our pizza, when the gentleman next to me ordered a heavenly looking pasta dish, Broccoli Sun-Dried Tomato Fusilli, which boasts the following ingredients on the menu: Fusilli with fresh baby broccoli, garlic, sun-dried and fresh tomatoes, fresh thyme and Parmesan cheese. Also available with grilled chicken breast or mild goat cheese. Oh my, it looked good. So I decided to order that the next time we were at CPK, which wasn't but a few weeks later, as Maya and I used to have a bit of a CPK habit. I ordered the pasta, and I loved it. I was hooked on it. I would order it every time I went there. One day, I realized, hey, I can make this at home. It's not that hard. There's no complicated sauce or anything, so I tried. It's the new 'go-to' pasta in our house, and it's Maya's favorite as well. I've changed the recipe a bit, by using cherry tomatoes rather than regular (hard to get consistently good tomatoes, and cherry or grape are almost always sweeter), and just for extra nutrition, I sometimes throw in a bag of pre-washed baby spinach. It wilts quickly and is a nice touch. Maya and I went to CPK for lunch a few weeks ago, and she ordered this. She enjoyed it, but said she likes mine better. Perhaps because I make mine with that secret ingredient, love.
Here's my recipe.
Broccoli Sun-Dried Tomato Fusilli

2 chicken breasts
2 pints (4 cups) cherry tomatoes
2 bunches broccolini, or a bag of broccoli florets
2 or 3 tablespoons of julienne sun-dried tomatoes, in olive oil
1 bag spinach
1 or 2 cloves garlic, finely chopped
a few sprigs of fresh thyme
6 tablespoons virgin olive oil
Salt
Pepper
16 oz fusilli
Parmesan

Season the chicken breasts with salt and pepper, then grill. (Alternately, you can cut into cubes and saute with sun-dried tomatoes and olive oil. This is quicker and only uses one pan, but the taste of the chicken is different. Both are good, just different.)

Slice the tomatoes into half or quarter, depending on how much you want them to cook. Quartered cherry tomatoes will obviously cook faster than halved. Place in a bowl with olive oil, thyme, salt, and pepper.

Bring a large pot of water to a boil; add salt and the pasta. Cook until the pasta is al dente. About 3 or 4 minutes before the pasta is finished, add the broccolini or broccoli florets to the water, and let it cook along with the pasta.

Saute the sun-dried tomatoes, along with some of the oil from the jar, and the garlic, until just fragrant, about 30 seconds or so. (If you're cooking the chicken in the same pan, add it now and cook until finished. Obviously this takes more than 30 seconds.) Add the cherry tomato mixture, and mix well. Add the bag of spinach, the cooked pasta and broccolini, and the chicken (if grilled). Toss, and sprinkle with freshly grated Parmesan cheese.
Nice, right? Well, the other day I decided to marry the fortunes together of these two recipes. If my CPK pasta was good, wouldn't it be better and brighter if I cooked the tomatoes a little less, and added parsley and shallots? The answer was, no. I'm not sure why, but the mixture of the two recipes wasn't as good as either on their own. It was fine, not horrid or anything, but it just wasn't as good. A mediocre marriage of two delicious recipes.
My advice? Try either, or both. Add chicken or omit chicken. Use the spinach or don't. Make it your own. But if you like tomatoes (I'm assuming you're not one of those freaks with a tomato problem…I know, I know, it's the texture, right? Whatever. I love tomatoes.), and if you like pasta, you'll probably like either one of these recipes, or perhaps both. Abbondanza.
(Btw, sorry about the blurry picture of my mediocre pasta marriage. Perhaps one day I'll become a famous food photographer, but somehow, I truly doubt it.)