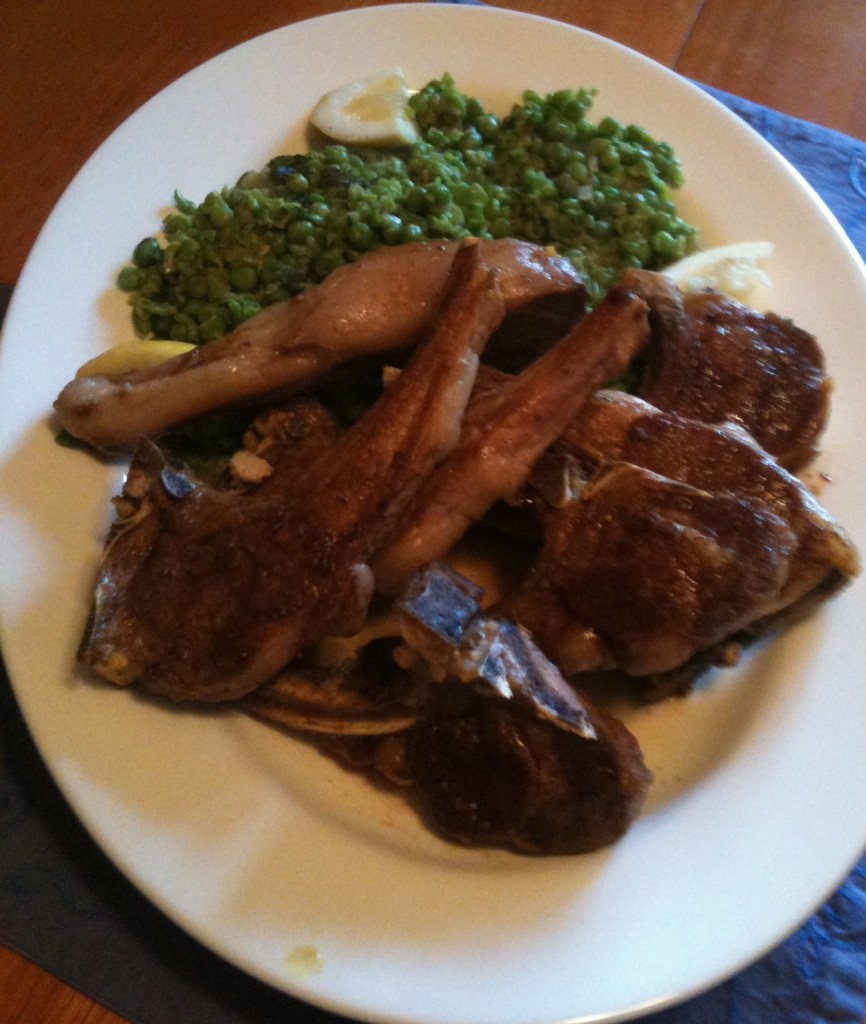 I found this recipe in the new Real Simple magazine, and the idea of seasoning the lamb with curry powder, and then cooking them without a sauce, intrigued me. The verdict? Three thumbs up. One from Ted, one from me, one from Maya. They were lovely, although the success of the dish probably depends on the quality of the lamb, and of the curry powder that you can find. Ted's mom hooks us up with some amazing curry powder, and I splurged on the lamb for this one. Really good.  Also, really easy and quick, with dinner on the table within 30 minutes.
Spiced Lamb Chops and Smashed Peas
Ingredients
2 tablespoons olive oil
8 lamb chops
1 teaspoon curry powder
kosher salt and pepper
4 shallots, chopped
3 cups frozen peas, thawed
2 teaspoons fresh lemon juice
1 tablespoon chopped fresh mint
2 pieces pita bread, torn into large pieces and lightly toasted
Directions
Heat oven to 400° F.
Heat 1 tablespoon of the oil in a large skillet over medium-high heat. Season the chops with the curry powder, 3/4 teaspoon salt, and 3/4 teaspoon pepper. Working in batches, brown the chops in the skillet, 2 minutes per side. Transfer to a baking sheet. Roast to the desired doneness, 4 to 6 minutes for medium-rare.
Wipe out skillet. Heat remaining oil over medium heat. Add the shallots and cook for 3 minutes. Add the peas and gently smash with the back of a fork or a potato masher. Cook until heated through.
Remove skillet from heat and stir in the lemon juice, mint, 1/4 teaspoon salt, and 1/4 teaspoon pepper. Serve with the lamb and pita bread.