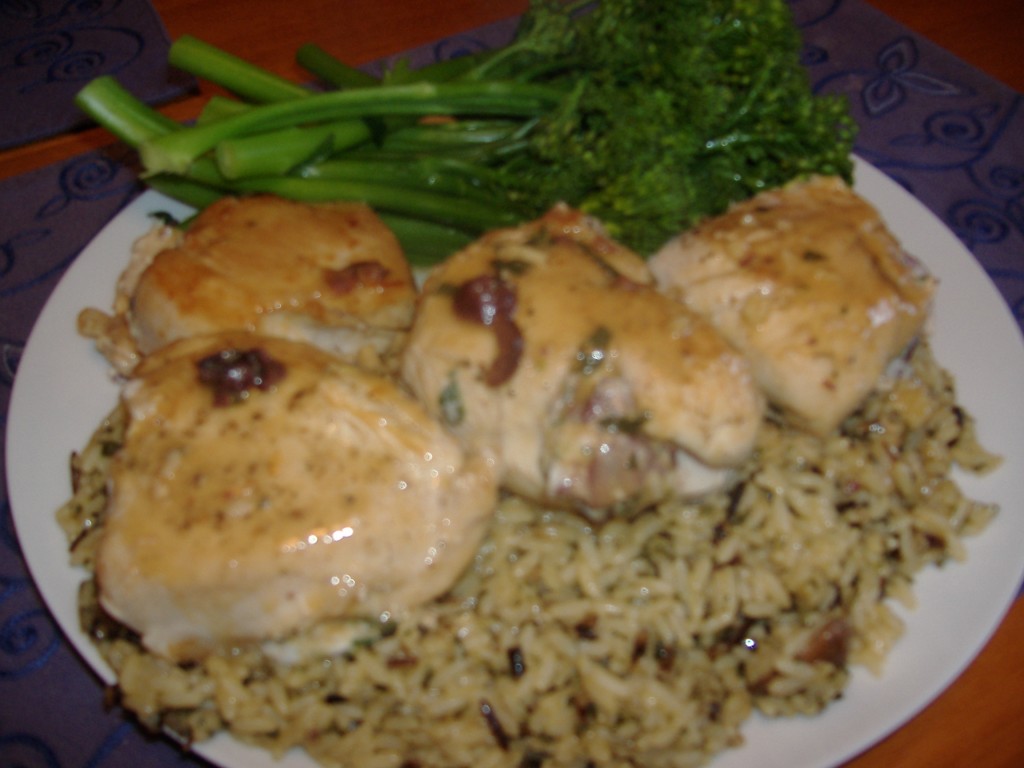 (sorry for the blurry pic…)
One indulgence we have been enjoying is On Demand for our cable TV. It's part of the cheapest package that gives us HBO, etc., and we really like it. It's expensive, though, so who knows if we'll keep it. On Demand allows you to watch certain TV shows whenever you want.  It feeds Ted's True Blood and Rescue Me addictions, fills us in when we go to bed early and miss an episode of Mad Men, and allows us to find movies to watch if we're in a TV mood but there's nothing on.  I wish they had everything ever made, but they're far from that. At this point, you don't know from week to week if the same shows will be available. One show we like to watch on our local PBS station is Check Please, Bay Area. Sometimes they have it on On Demand, and sometimes they don't. The other day, I felt like watching a cooking show, and didn't like what Food Network had, so I went snooping around On Demand. I came across another show by our local PBS station, KQED, called Joanne Weir's Cooking Class. The idea is that a local chef is teaching someone who likes to cook some more pointers. I found the show a bit annoying, mostly because I wasn't interested in the little vignettes of the student saying what he liked about the class, and the teacher saying what an enthusiastic student he was. Too Jon and Kate or whatever for me. But the dish they made looked really good, so we decided to give it a try.  I found the recipe here, and copied it entirely, including the wine suggestion.  That was part of the show, and she talked about how to match foods.  She said that the Sauvignon Blanc is perfect with goat cheese…that the creamy tartness compliments the wine wonderfully. Verdict? A very, very yummy dinner. The tart smoothness of the goat cheese and the salty olives worked so well together. And with a glass of Sauvignon Blanc? Absolutely perfect.
Chicken Breasts Stuffed with Goat Cheese and Olives

Boneless, skinless chicken breasts are a great starting point for a simple weeknight dinner. But when you remove the skin from the chicken, lots of the flavor is lost. Chicken breasts need a little something to give them a jump start, so I stuff them. This assertive mix of fresh goat cheese, briney black olives, and fresh-from-the-garden oregano, flat-leaf parsley, and thyme really do the trick. Stuff the breasts several hours ahead of time and cook them at the last minute.

4 ounces fresh goat cheese
1 tablespoon whole milk
2 garlic cloves, minced
1 tablespoon chopped fresh flat-leaf parsley
1 teaspoon chopped fresh oregano
1 teaspoon chopped fresh thyme
Pinch of red pepper flakes
2 tablespoons chopped imported black olives, such as Kalamata or Niçoise
Salt and freshly ground black pepper
6 boneless, skinless chicken breast halves (about 6 ounces each)
2 tablespoons extra-virgin olive oil
1/2 cup dry white wine, such as Sauvignon Blanc
1/2 cup chicken stock

In a small bowl, mash together the goat cheese and milk until smooth. Add the garlic, parsley, oregano, thyme, and red pepper flakes. Mix in the olives and season to taste with salt and pepper.

On the thickest side of each chicken breast, cut a deep, 3-inch-long pocket. Using your fingers, stuff the goat cheese mixture into each pocket. Close by pressing the flesh together and secure with a toothpick, if necessary.

In a large skillet, heat the oil over medium heat. Have ready a lid that is too small for the pan, but will cover all the breasts. Cook the chicken on 1 side until golden brown, 4 to 5 minutes. Turn the breasts, season with salt and pepper, and set the small lid on top of the chicken in the pan. Continue to cook until the chicken is cooked through, 4 to 5 minutes more.

Transfer the chicken to a warm serving platter. Pour the wine into the pan and cook, scraping up the flavorful brown bits stuck to the bottom of the pan. Cook until the wine has reduced by about half, 1 to 2 minutes. Add the chicken stock, season with salt and pepper, and cook until the sauce is reduced to a glossy syrup, about 1 minute.

Drizzle the reduction over the chicken and serve.

Serves 6

TO DRINK: Sauvignon Blanc
One side note about sodium. We've been working on cutting back the sodium in our diet for various health reasons, and so I've been paying more attention to labels lately. I am somewhat savvy about labels and the amounts of sodium that is put in processed food, but sometimes I find examples that are shocking. When I went looking for chicken stock at the grocery store, I found an amazing difference in the amount of sodium included in different products. The highest I found was, I believe, Swanson's Chicken Broth, with an amazing 860mg per cup. Their chicken stock was a little bit better, with 510mg per cup. Most of the lower sodium broths and stocks I found were in the 500mg range. I came across one broth, however, with only 95mg per cup, Imagine Organic Low Sodium Free Range Chicken Broth. Color me impressed. And for this recipe? I didn't miss the salt one bit. Delicious.