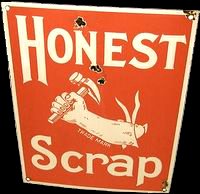 I'm tickled pink (an expression I very rarely use, VERY rarely) to receive this award from the lovely and overworked Chrissy, a lovely woman living on a little island up in Ontario, on a farm with her husband and her beautiful baby.  Anyone who thinks farm life is easy has never read any good farm books (Like the Little House books, for me), and doesn't read any farm blogs.  Chrissy's is a good one.  She is also a champion blogger…last year, during NaBloPoMo, she honored that commitment, blogging every day that month, even though she was sent to the hospital in the hopes of keeping her baby inside of her a bit longer, and blogged the day she gave birth to her baby (I think her husband may have helped out on that one), and from the Neonatal unit where her extremely premature baby had to stay until she was strong enough to come home.  Don't fret, come home she did, and she's a healthy, happy, beautiful baby, soon to be 1.   Chrissy writes her blog with absolute honesty and truth, so I can see how she earned this award.  To read her blog, I suspect, is to know her in person.  I admire that in a blogger.
OK, the rules of this award are that I now have to say 10 honest things about myself, and then tag 7 bloggy friends who I think are honest and true with what they have to say.  Sigh.  The hard part.  OK, first things first.  10 honest things.  This might be difficult, because I think you all know everything already.  I mean, isn't that what the award is about, being honest and spilling my guts?
I have recently given up Diet Coke.  Again.  Know what?  I miss it.  But I keep hearing how bad all of those chemicals are for you, and I do get tired of having that monkey on my back.  Wondering, 'do I need to go buy diet coke?'  I know, get a real problem, lady.
So I'm switching to tea in the mornings.  I'm not ready to decide whether to give up caffeine or not.  I don't really like tea that much.  Guess I need to start trying different kinds and find one that I like.
Drinking tea in the morning does make me stop and remember when Ted and I were dating…I used to have to work early in the mornings, and he would get up early and make me tea and toast for breakfast before driving me to my 6am shift.  Took me awhile to confess to him that food that early kind of grossed me out, because it was such a generous and sweet gesture.
Everyone is in love with True Blood, but I haven't gotten sucked in yet.  I think it's just that much too violent for me.  Though the scene on right now is hilarious.
I get sinus headaches when the weather changes, mostly when the barometric pressure quickly drops.  Not always, but much more often than I would like.  Blech.
I don't consider myself to be superstitious, but: I won't walk under a ladder.  I don't like to see an umbrella open in the house.  I wish on white horses.  But I'll say whatever I want about things, and not worry about jinxing myself.
I think Carter is right, and that Joe Wilson wouldn't have yelled out like that to a white President.  The underlying fear in white America of a black President is disturbing.  Yes, we all have the right to disagree with our leaders.  But the hatred and fear mongering going on lately (for the last year, really) is pure ugly.
A lot of my posts are time stamped 4:23.  That's my small way of letting my mom know that I'm thinking of her, since her birthday was April 23rd.
My favorite color is green, because I love trees and grass and all of the growing things.  Second favorite would probably be blue, for the beautiful ocean and sky.
OK, last one.  Something meaningful now, huh?  Sorry, I got nothing.  I've done too many memes in my day, and I've told you everything.  I will tell you that I'm drooling over the remastered Beatles albums.  But you know what?  I really liked their greatest hits compilations…the red and blue albums, as they were called.  I wish they had remastered those.
OK, that's 10 honest things, though I don't know that they're the least bit interesting.  Now, 7 bloggers I would like to give this award to. (To whom I would like to bestow this award…that's a lame rule of grammar, isn't it?  We're not speaking Latin here, who cares if my infinitives are split?)