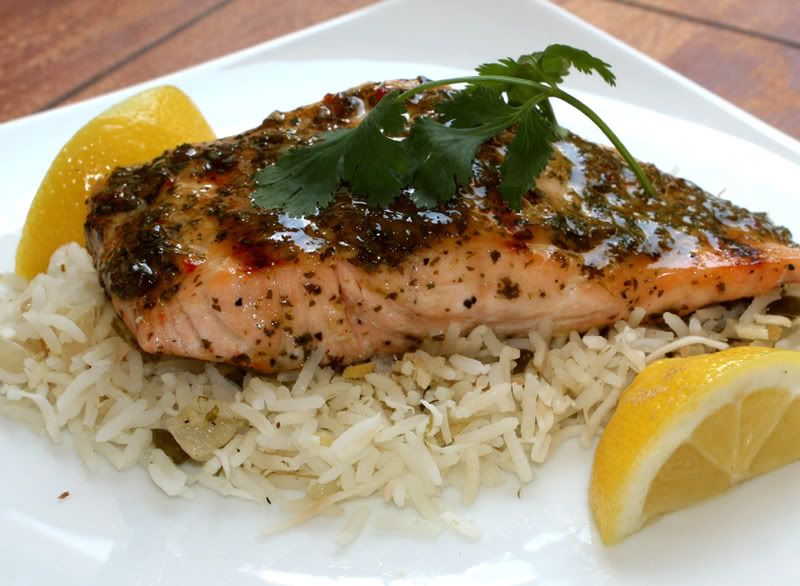 gorgeous picture found here
I saw this recipe on my current favorite cooking show, America's Test Kitchen, and it looked so easy and delicious that I decided that I had to try it. The beginning of this week was ungodly hot, with Sunday topping out at 108, and Monday a more reasonable, but still toasty, 97 or so. So grilling is the perfect way to avoid heating up the kitchen. This recipe was truly delicious, and I suspect we'll be having it again, especially since I still have 1/2 jar of jalapeno jelly in my fridge, and no idea what else I would use it for.
I've grilled fish before, and it always sticks to the grill and falls apart. I hate that. This recipe avoids that problem by putting the fish on aluminum foil, which is then put on the grill. Nice trick. I copied the pictures on how to do that from their website (subscription required). The recipe is for cooking the fish on a gas grill, and the pictures show a charcoal grill, so clearly you can do it either way.
This recipe made me wish we lived in Alaska, so we could catch our own supremely awesome salmon, thus assuring maximum freshness, and of course, saving a ton of money, because good salmon ain't cheap around here. Give it a try. The glaze on this is truly yummy. Recipe copied directly from the ATK website.
Gas-Grilled Glazed Salmon

Serves 4  

Note: Use any brand of heavy-duty aluminum foil to make the grill trays, but be sure to spray the foil with nonstick cooking spray. Alternatively, you can use Reynolds Wrap nonstick aluminum foil and skip the cooking spray.

Ingredients

1/2 cup jalapeno jelly
1/2 cup packed fresh cilantro leaves and stems
1 teaspoon grated lime zest
2 tablespoons fresh lime juice
2 medium garlic cloves , minced or pressed through a garlic press (about 2 teaspoons)
2 scallions , chopped rough
2 tablespoons unsalted butter
4 salmon fillets (each 6 to 8 ounces and 1 1/4 inches thick), skin removed
Salt and pepper

Instructions

Process the jelly, cilantro, lime zest, lime juice, garlic, and scallions in a food processor or blender until smooth. Heat the glaze in a small saucepan over medium heat until just bubbling, 2 to 3 minutes. Remove from the heat and transfer 1/4 cup of the glaze to a small bowl to cool slightly. Stir the butter into the glaze remaining in the saucepan, cover, and set aside.
Turn on all the burners to high, cover, and heat the grill until very hot, about 15 minutes. Use a grill brush to scrape the grate clean.
Use heavy-duty foil to make four 7 by 5-inch trays. Coat the trays with cooking spray. Season the salmon with salt and pepper, brush each side of each fillet with 1/2 tablespoon reserved glaze (without the butter), and place skinned side up on the trays.
Making sure to leave the burners on high and cook with the lid down, place the trays with the salmon over the hot side of the grill and grill until the glaze forms a golden brown crust, 6 to 8 minutes. (Move the fillets to a cooler part of the grill if they darken too soon.) Using tongs, flip the salmon and cook 1 minute. Spoon half of the buttered glaze on the salmon and cook until the center of each fillet is still just translucent, about 1 minute. Transfer the salmon to a platter and spoon the remaining buttered glaze over it. Serve.

Step-by-Step

No More Sticking Few culinary pitfalls are as irksome as fish stuck to the grill. Fish baskets leave no attractive grill marks, and the fish often sticks to the basket. We had better luck with homemade foil trays coated with cooking spray.

1. Cut out four rectangles of heavy-duty aluminum foil and crimp the edges until each tray measures 7 by 5 inches.

2. Place one seasoned and glazed salmon fillet, skinned side up, on each foil tray.

3. After the glaze forms a golden brown crust around the edges of the fish, use tongs to flip each fillet.

4. Spoon half the buttered glaze over the salmon while it's on the grill so the glaze can thicken slightly.

Published May 1, 2008. From ATK Books.