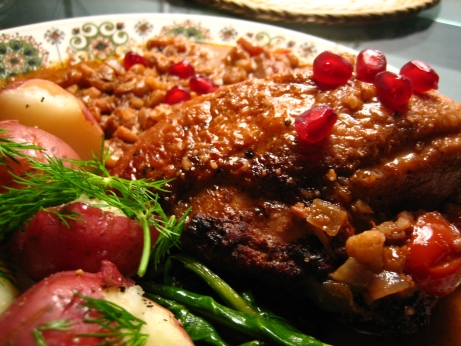 (Gorgeous photo along with a pretty cool recipe project along the lines of 'Julie and Julia', found here)
I was looking through my cooking magazines the other day, trying to find a recipe that calls for chicken breasts, and I came across this recipe in Cooking Light. We tried it for dinner last night, and it was a hit. It didn't look as gorgeous as the picture above, but I forgot to take a picture, so we'll just pretend mine looked as awesome as KC's, OK? Really quite yummy.
Persian Pomegranate Walnut Chicken
Based on the Persian dish fesenjan, this streamlined entrée features a sweet-tart sauce of pomegranate juice thickened with ground walnuts. After toasting, cool the nuts completely before grinding.
Ingredients
* 1 cup walnuts, toasted
* 8 (6-ounce) skinless, boneless chicken breast halves
* 1 3/4 teaspoons kosher salt, divided
* 1/2 teaspoon freshly ground black pepper, divided
* Cooking spray
* 1/2 cup finely chopped onion
* 2 garlic cloves, minced
* 1 cup fat-free, less-sodium chicken broth
* 1 cup pomegranate juice
* 1 tablespoon tomato paste
* 2 teaspoons sugar
* 1/8 teaspoon saffron threads, crushed
* Dash of ground cinnamon
* Cilantro sprigs (optional)
Preparation
1. Place walnuts in a food processor; process until finely ground. Set aside.
2. Sprinkle chicken with 1 teaspoon salt and 1/4 teaspoon pepper. Heat a large nonstick skillet over medium-high heat. Coat pan with cooking spray. Add half of chicken to pan; cook 4 minutes on each side. Remove from pan. Repeat procedure with remaining chicken.
3. Recoat pan with cooking spray. Add onion and garlic to pan; sauté 3 minutes. Add remaining 3/4 teaspoon salt, remaining 1/4 teaspoon pepper, ground walnuts, broth, and the remaining ingredients except cilantro, stirring with a whisk until smooth. Bring to a boil; reduce heat, and simmer until reduced to 1 1/2 cups (about 15 minutes), stirring occasionally. Return chicken to pan; cover and simmer 10 minutes or until thoroughly heated. Garnish with cilantro sprigs, if desired.
Yield: 8 servings (serving size: 1 chicken breast half and about 3 tablespoons sauce)