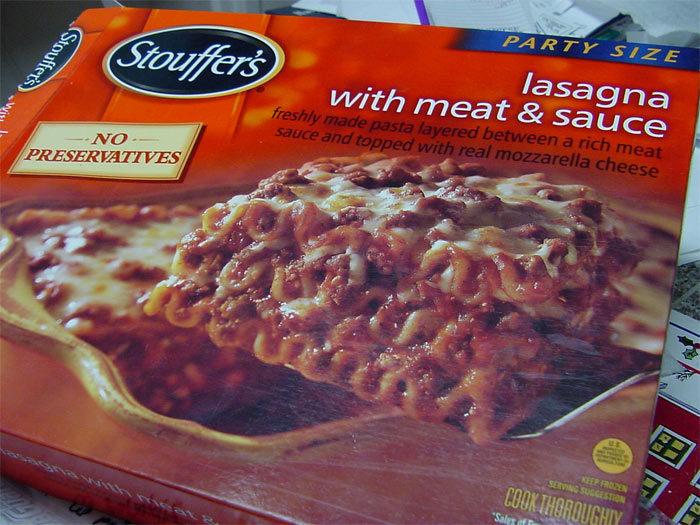 (I found this image here)
You like babies?  We got babies.  This summer, we had four babies born into our little condo community.  One of the couples lived here already, has lived here for several years, and the other three moved in while expecting their babies. Now we have four little infants, all within a few weeks of each other, three boys and one girl.  I keep telling Maya that she should go take one of those fancy babysitting classes, because there's going to be a ton of money to be made around here pretty soon, but the child has no work ethic, and just looks at me.  Of course, I made money babysitting without taking any fancy babysitting classes, so it probably doesn't matter.
Anyway, knowing how those first few weeks can be exhausting, how hard it is to even function on so little sleep, let alone to manage to feed yourselves, I decided to do the neighborly thing and bring them a lasagna.  It's comforting, you can eat it hot, room temperature, or cold, and it's easy.  Time consuming to put together, but easy if a neighbor brings it by, all ready to pop in the oven, right?
The babies were born in batches, with two being born 3 or 4 days apart in late July, and then the others waiting maybe a month to be born.  The second batch babies had grandmas come and cook and help out for a few weeks, so I waited awhile to make their lasagnas.  All of this mindless detail to explain why I made two different recipes, one for the first batch, another for the second batch.  And, duh, if I'm making lasagna for neighbors, I'll make one for us as well, right?  So we tried both recipes.
First up, I searched Food Network.com, and found this yummy looking recipe from The Barefoot Contessa's Ina Garten.  I liked the idea of sausage in the recipe, and the idea of goat cheese seemed really yummy.
Ina Garten's Turkey Lasagna

Ingredients

2 tablespoons olive oil
1 cup chopped yellow onion (1 onion)
2 garlic cloves, minced
1 1/2 pounds sweet Italian turkey sausage, casings removed
1 (28-ounce) can crushed in tomato puree
1 (6-ounce) can tomato paste
1/4 cup chopped fresh flat-leaf parsley, divided
1/2 cup chopped fresh basil leaves
Kosher salt
Freshly ground black pepper
1/2 pound lasagna noodles
15 ounces ricotta cheese
3 to 4 ounces creamy goat cheese, crumbled
1 cup grated Parmesan, plus 1/4 cup for sprinkling
1 extra-large egg, lightly beaten
1 pound fresh mozzarella, thinly sliced

Directions
Preheat the oven to 400 degrees F.

Heat the olive oil in a large (10 to 12-inch) skillet. Add the onion and cook for 5 minutes over medium-low heat, until translucent. Add the garlic and cook for 1 more minute. Add the sausage and cook over medium-low heat, breaking it up with a fork, for 8 to 10 minutes, or until no longer pink. Add the tomatoes, tomato paste, 2 tablespoons of the parsley, the basil, 1 1/2 teaspoons salt, and 1/2 teaspoon pepper. Simmer, uncovered, over medium-low heat, for 15 to 20 minutes, until thickened.

Meanwhile, fill a large bowl with the hottest tap water. Add the noodles and allow them to sit in the water for 20 minutes. Drain.

In a medium bowl, combine the ricotta, goat cheese, 1 cup of Parmesan, the egg, the remaining 2 tablespoons of parsley, 1/2 teaspoon salt, and 1/4 teaspoon pepper. Set aside.

Ladle 1/3 of the sauce into a 9 by 12 by 2-inch rectangular baking dish, spreading the sauce over the bottom of the dish. Then add the layers as follows: half the pasta, half the mozzarella, half the ricotta, and one third of the sauce. Add the rest of the pasta, mozzarella, ricotta, and finally, sauce. Sprinkle with 1/4 cup of Parmesan. Bake for 30 minutes, until the sauce is bubbling.

Link to recipe, here..
Verdict? Really, really yummy. The ratio of sausage to cheese to tomato was really nice, and the goat cheese gave it a nice delicate flavor that we really enjoyed. The neighbors raved, and I think this recipe is a keeper.  The only thing is, making three batches of this got kind of pricey, so when it came time for a repeat performance, I decided to look for a less expensive version, with perhaps fewer ingredients.  Handily enough, what did I see pop up on Yahoo yesterday, but a turkey sausage lasagna recipe with fewer ingredients, that looked like it might be fun to try, and got good reviews by users.
Martha Stewart's Tomato-Sausage Lasagna

Ingredients

12 dried lasagna noodles, uncooked
2 teaspoons olive oil
1 large onion, chopped
4 cloves garlic, finely chopped
1 1/2 teaspoons dried Italian seasoning
1/4 teaspoon red pepper flakes
1 pound sweet Italian sausage, casings removed
2 (28 ounce) cans whole peeled tomatoes in puree
Coarse salt and ground pepper
6 cups shredded mozzarella cheese
3/4 cup shredded Parmesan cheese

Directions
Fill a 9-by-13-inch baking dish two-thirds of the way with hot tap water. Add noodles, and arrange them in alternating directions to prevent sticking. Let soak while preparing sauce.

Make sauce: Heat oil in a large saucepan over medium heat. Add onion, garlic, Italian seasoning, and red-pepper flakes; cook, stirring occasionally, until lightly browned, about 5 minutes. Add sausage, and cook, stirring and breaking it up, until just cooked through, about 5 minutes. Add tomatoes and their puree, breaking up tomatoes with a spoon or your finger; bring to a boil. Reduce to a rapid simmer, and cook, stirring occasionally, until thickened, about 20 minutes. (You should have about 8 cups of sauce.) Season with salt and pepper.

Preheat oven to 350 degrees F. Drain noodles, transfer to a baking sheet; dry dish with paper towels. Spoon 1 cup sauce in bottom of dish. Fit 4 noodles in dish (crosswise if using short noodles, lengthwise if using long), overlapping slightly. Cover with 2 cups sauce, 2 cups mozzarella, and 1/4 cup Parmesan. Repeat with another layer, then top with remaining noodles, 3 cups sauce, and the rest of mozzarella and Parmesan. Cover dish tightly with aluminum foil, and bake 1 hour.

Remove foil, and continue baking until bubbly and browned, about 30 minutes. Remove from oven; let cool 20 minutes. Cut and serve.

Link to recipe, here.
Verdict? Meh. This recipe was definitely easier to make than Ina's. There's no ricotta or goat cheese, which can sometimes get kind of messy. But the ratio of cheese to sausage to tomato wasn't quite right for me. Too many tomatoes, too much cheese, not enough meat, in my book. I bought those throw away lasagna pans for the neighbors, so they wouldn't have to do dishes after, and you know how they're kind of flimsy? Yeah, well, the sauce was dribbling on my hands when I brought the lasagnas to their houses. Don't get me wrong, this was a fine lasagna, and it was easier and less expensive to make than Ina's version. But next time I get the urge to make lasagna? I'll skip this recipe and go for the first one. Sorry, Martha.